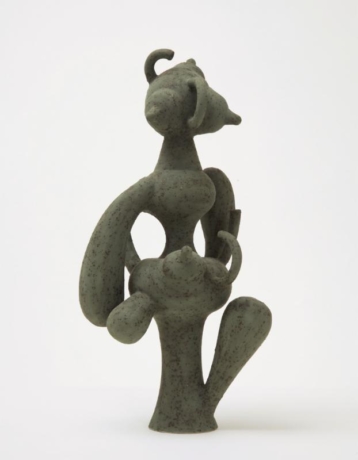 Exhibitions
MARJA VALLILA: LATE WORKS
Marja Vallila
Tops is pleased to present a selection of slip-cast ceramic sculptures from Marja Vallila's last body of work made between 2000 and 2004. Known for her large architectonic metal sculptures, Vallila's exuberant, modestly scaled, and technically virtuosic ceramic works contrast remarkably with her large, severely rugged early work.
Vallila began making these sculptures in 2000 after visiting the Museum of Ceramics in Deruta, Italy. Employing the slip-cast technique most commonly used in decorative art, Vallila formed poly and monochromatic assemblages combining everyday objects found on Canal Street into surprising forms that are at once strange and familiar. Although the sculptures register as playful and spontaneous, the manic and obsessive quality of this work is ultimately more searching than ornamental.
Marja Vallila (born 1950, in Prague) has exhibited internationally including solo exhibitions at the Newark Museum, the Springfield Museum, the Seoul Art Center, Chodovska Tvrz, Czech Republic and the Zabriskie Gallery, NYC and group exhibitions including "Study in Material"at Storm King in 1978. Vallila is included in the permanent collection of the Everson Museum of Art, the Herbert F. Johnson Museum of Art, Hampshire College Art Gallery, and the Smith College Museum of Art. She recently had a solo exhibition at The Atlanta Contemporary organized by Tops Gallery. Vallila received an MFA from Cornell in 1975 and currently resides in Memphis.