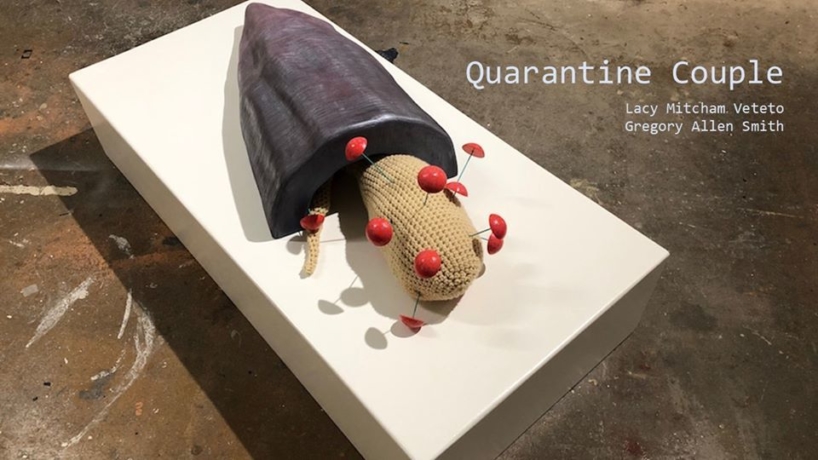 Exhibitions
​LACY MITCHAM VETETO & GREGORY ALLEN SMITH​: QUARANTINE COUPLE
Lacy Mitcham Veteto, Gregory Allen Smith
The students of Art 260: Curation in Context worked remotely with Memphis-based artists to think about what art can do during quarantine. The result is a group of virtual exhibitions that help us see the landscape, the home, personal relationships, and our own bodies with the clarity and insight that only art and artists can offer. Exhibitions will premier here on Facebook throughout this week, and then be archived on our website.
This is Quarantine Couple, featuring work by Lacey Mitcham Veteto and Gregory Allen Smith, curated by Ben Aquila.
Extreme isolation is a daunting task for one person. There is nothing but time to get lost in thoughts and feelings that, outside of unending alone-ness, might be avoided. If this exercise brewing within one person seems difficult, imagine when its compounded and confused by. . . a partner. Good god what is going on there?

Independent Artists, collaborators, and partners Lacy Mitcham Veteto and Gregory Allen Smith help us understand this wild proposition that is occurring with millions of folks in our current moment. Individually, each has been thrown into a time where they are self-analyzing in a crazy active way. For Veteto, this means exploring the layers of her body physically and theoretically-What does it mean to inhabit sheets of gooey matter with holes and roles, and what does it entail to call these layers she? Smith all the while is preoccupied with his intimate care and frustration for the body and its treatment of the ground that supports it. Are people weeds, weed-makers, or both? And how do these weeds manifest? With two intense thought trains going full steam ahead under the same roof, it feels impossible to fit anything else in the room. However, out of their mutual relationship comes a climactic and collaborative object that represents the exciting and maybe hazardous reality of isolating alone and with another. In other words, being a quarantine couple.
---
Arist bios:
LMV: Lacy Mitcham Veteto is an artist who works primarily in three-dimensions. Her practice is rooted in sculpture that uses the fragile condition of the body and nature to consider issues of power and vulnerability. Her work has most recently turned to runway fashion in Memphis Fashion Week to make wearable sculptures that inject a sculptural approach to fashion design, and a different audience. In the past year, she also has curated exhibitions that make suggestions of the impacts of various power dynamics and considers this part of her 3D practice. She graduated with her Master of Fine Arts in 2017, and has been an educator at University of Memphis, Rhodes College, University Middle School, Creative Aging and The Dixon Gallery and Gardens. She was also an Arts Accelerator grant awardee through Arts Memphis, and is co-editor of Number Magazine, which is a submission-based regional art publication.
GAS: Smith earned his Bachelor of Science in Mass Communication with an emphasis in Photography from Middle Tennessee State University in 2006. After moving back to Memphis, he completed his Bachelor of Fine Arts degree at the University of Memphis in 2014. Since then, he has held the fulltime position of preparator at David Lusk Gallery.