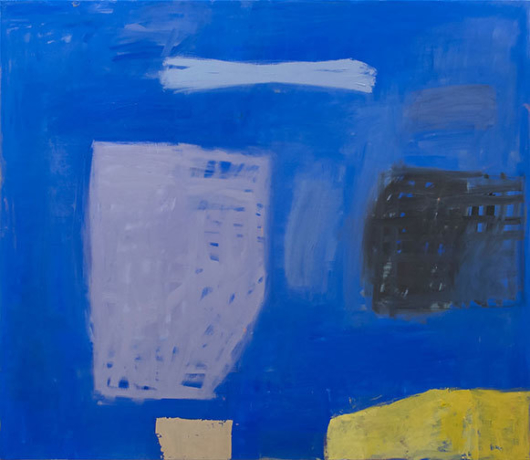 Exhibitions
KIT REUTHER: ABSTRACTED STILL LIFE
Kit Reuther
Nashville-based artist Kit Reuther returns to David Lusk Gallery for her fourth solo show Abstracted Still Life. This series of new paintings loosely references still life compositions organized across the canvas surface. Nothing is literal or fully formed, only suggested. The negative space is "weighted" with layers of paint and remnants of a highly-worked surface.
Although a life-long artist, Reuther considers herself a self-taught painter and sculptor. She began her official art career in the early 1990s after working in retail display. Her initial body of work was realistic objects, rendered in a very minimal palette. Experimentation quickly pointed her to dissolving recognizable objects, and later to large mark-oriented paintings. Now she focues on more minimal collages with drawing and paint applications and manipulated canvases.
This current body of work experiments with abstracted geometry, bold color and bits of texture throughout. Still present in Reuther's work is her unwillingness to stay within the boundaries of the shapes she paints and within the canvas borders. Deliberate marks fill the abstracted shapes in a way that invites the viewer to complete the rest of the marks themselves. Reuther has suggested the shapes and ideas for us; we fill in the rest. Though these paintings feature individual shapes shapes spread across the canvas, her all-over painting style is prevalent in each work.
Reuther was awarded two Artists' Fellowships, one from the Vermont Studio Center and another from the Virginia Center for the Creative Arts. She participated in the VCCA International Residency Program in Germany and the Contemporary Artists Center Residency in Massachusetts. She lives and works in Nashville, Tennessee.