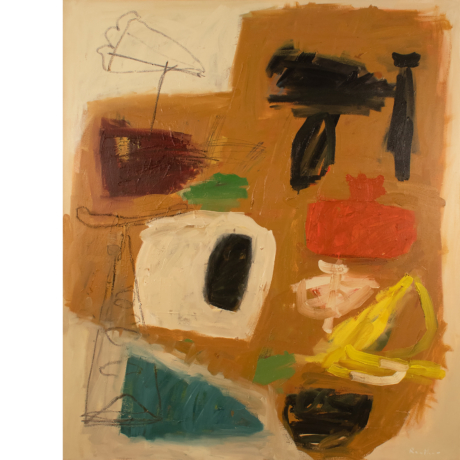 Exhibitions
KIT REUTHER: OTHERWORLD
Kit Reuther
Kit Reuther kicks off Fall at David Lusk Gallery Memphis with OTHERWORLD, a new collection of paintings and sculpture. With a rich color palette and Reuther's signature abstracted yet organic shapes that celebrate the end of summer, OTHERWORLD focuses on nonrepresentational fecund landscapes and futuristic geometric shapes.
A born-and-raised Nashville artist, Reuther creates simultaneously restrained and energetic paintings. Recent paintings reference still life compositions or landscapes with washes of color, abstracted geometry, and intuitive mark-making. Her sculptures are an extension of her paintings, with totemic forms of cement blocks, sleek metal, and anthropomorphic wooden shapes. In this show she's challenged herself to work with colors that she has previously ignored –hitting turquoise and pumpkin against her favored dirty whites.
Reuther's work recalls Louise Nevelson, Cy Twombly, Franz West, and David Smith - on canvas and in wood and metal. Her paintings inform her sculptures, and her sculptures impart specific forms in her paintings. In OTHERWORLD her neutral, earthy palettes speak - punctuated by forceful color- as if this body of work has been lying in wait for years.
Kit Reuther is a graduate of Nashville's O'More School of Design. She has been awarded artist fellowships from the Vermont Studio Center and the Virginia Center for the Creative Arts and participated in the VCCA International Residency Program in Germany, as well as the Contemporary Artists Center Residency in Boston, MA. She exhibits frequently across the United States, including San Francisco, Santa Fe, Charlotte, Atlanta, Nashville and Memphis. Her works are in private and public collections across Tennessee and the Southeastern US.
David Lusk Gallery is located at 97 Tillman St in Memphis. Gallery hours are Tu - Sa 10-5. For more information or visuals please contact Lees Romano at 615.780.9990 or lees@davidluskgallery.com.