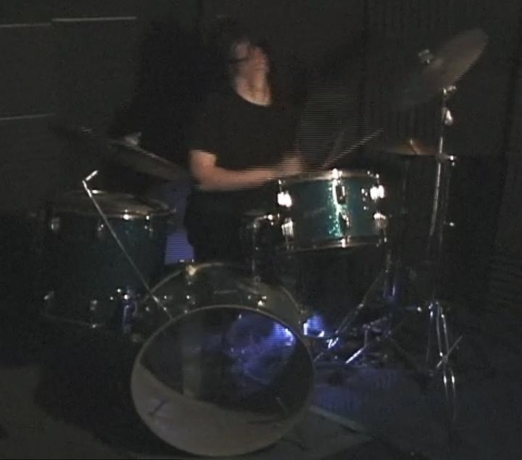 Exhibitions
KATIE MURRAY: THAT SHADOW, MY LIKENESS
Katie Murray
Tops Gallery is pleased to announce Katie Murray: That Shadow, My Likeness, the twenty-fifth show at the gallery.
That Shadow, My Likeness, a title borrowed from Walt Whitman's Leaves of Grass, engages sight, sound, and the passing of time. Murray's intimate color portraits, still lifes, and audibly dense video, Slaying, consider sequential, cyclical, and repetitive nature.
Murray's exhibit at Tops will consist of a small group of photographs centered around her community in Queens, New York along with a video inspired by the footage she shot of her husband's audition tape for the metal band Slayer. As both an observer and a participant, Murray uses the material of her world to transform her people and terrain into a heightened narrative.
Through a controlled use of color, form, and repetition Murray creates a mysterious metre from her familiar subjects. Her work in the show at Tops includes a portrait of her son with his arm in a red cast, posing sans shirt, against a red wall and a still life of that same cast, cast aside, coolly shot in bright winter light. Other portraits describe a young boy displaying his hand as it casts an abstracted shadow across his torso, while another shows a woman gazing intently, "waiting for Pope Francis", as she cradles her weathered hands in sober anticipation. The video, Slaying, depicts the artist's husband, drummer Ed Klinger, rehearsing the Slayer song "disciple" with vigorous concentration. This work echoes through the anteroom gallery into the main gallery mirroring qualities shared in the photographs.
---
Katie Murray is a photographer and video artist living in New York City. She received her BFA in 1997 from the School of Visual Arts and her MFA from Yale University School of Art in 2000. Murray's work has been exhibited nationally and internationally including exhibitions at Athens Photo Festival, Greece, European Capital of Culture Wroclaw, The Barbara Walters Gallery at Sarah Lawrence College, The Photographers' Gallery, HomeFront Gallery, NY, World Class Boxing, Miami, Kate Werble Gallery, NY, International Center for Photography, White Columns, NY, Queens Museum of Art, NY, and The Yale Art Gallery, CT. Murray has received the Barry Cohen Award for Excellence in Art in 2000, a NYFA grant in 2012 and was a nominee for the Anonymous Was a Women Grant in 2015. Her work has been published in various magazines, books and catalogues. Daylight Books published Murray's first monograph All The Queens Men in 2013. Murray is a faculty member in the Art Departments at Sarah Lawrence College, Hunter College, and School of Visual Arts.