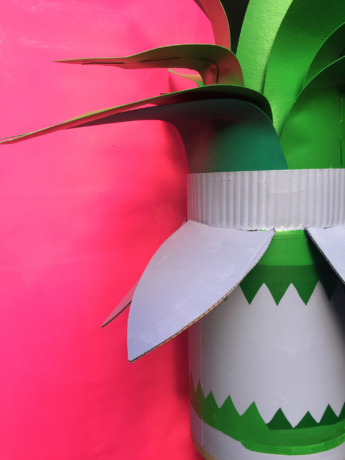 Exhibitions
JUSTIN BOWLES: TEMPLE OF THE CHA-CHA-HUA
Justin Bowles
Justin Bowles describes Temple of the Cha-Cha-Hua as a fantasy environment that will hopefully speak to a sacred space inside each of us: the essence of our childhood dreams. She says that the primary inspiration for this installation was her 2015 trip to Mexico City. Once inside the temple-like space, the viewer may explore several elements of the space. In one corner is the Sparkle Mystery Garden, full of strange plants, insects, and animals. In the center of the space is a reflecting pool made of paper, inhabited by plastic flamingos and water plants, also made of paper. This pool leads up to the central piece of the installation, a large sculpture of a Chihuahua puppy. Paper vines tumble down from the windows that line the top of two walls in the space. Viewers are invited to sit on benches in the space and reflect.

I was fascinated by the Mesoamerican sacred spaces recreated in the Museo Nacional de Antropologia, says Bowles. Using these ancient works as a model, I created a temple-like space populated with plants and animals made from craft and found materials.
Justin Bowles was born in Little Rock, Arkansas and currently lives in Memphis. She received a BA in English and a BFA in sculpture from the University of Kansas, and an MFA from Memphis College of Art. Bowles has most recently exhibited around Memphis and regionally at Dixon Gallery and Gardens, the University of Mississippi, and in a group traveling show by Arkansas artists called Abstract Art. She has produced public art with the Downtown Memphis Commission, was one of five inaugural Community Supported Artists featured by ArtsMemphis, and an NEA Southern Constellations Fellowship nominee.