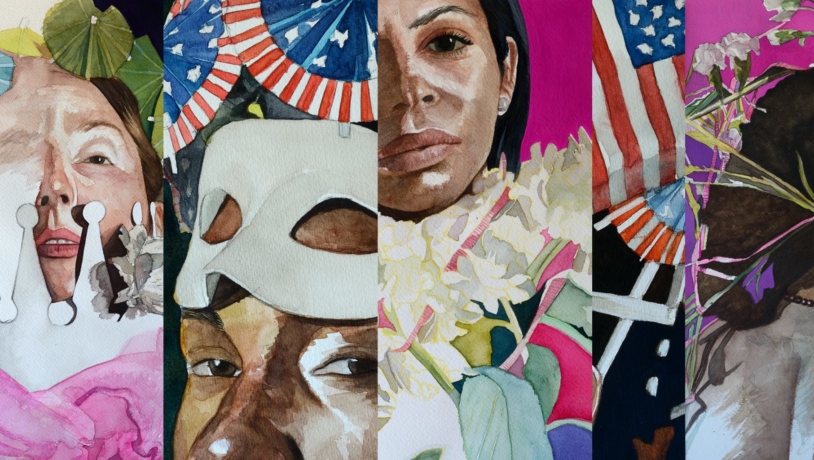 Exhibitions
​JUAN ROJO​: NEW PAINTINGS
Juan Rojo
The first exhiition of Juan Rojo at Jay Etkin Gallery will open from the 4th of August to the 30th of August.
RECEPTION: Friday August 4th from 6 to 9 PM.
Juan Rojo's work has always been rooted in tradition, from Spanish Baroque painters to more contemporary Masters like Lucien Freud or Frank Auerbach. While the paintings still contain allusions to those works, they exist as points of reference instead of the kind of derivative mimicry of his early paintings. In this new body of work, decoration plays a primary role as an element that intrudes and at times even obscures the faces of the subjects and disguises their identity. There is a playful and trusting relationship between artist and model that allows the artist to use the bodies of the models as mannequins, as structures to which all sorts of objects can be attached. Some objects are meaningful to the models, but others are placed there to compose form, color or line. This dress-up process is intuitive and anarchic but also treated with great care and a fundamental part of the process. This playful approach helps him to discover new forms and to deepen his exploration of the figure. Rojo cultivates a problematic dialogue in his work between form and content. He contrasts a pleasing aesthetic and elements of decoration with the use or abuse of the (predominately female) models. Rojo puts the viewers/spectators in an awkward space where they have mixed feelings; seduced into taking pleasure in the form of the paintings but instinctively distrust what is in front of them, even if they do not know exactly why.