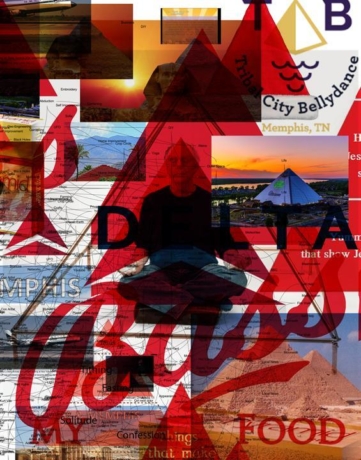 Exhibitions
JOSEF BULL: THIS IS PLANET EARTH
Josef Bull
Opening Saturday November 25th 6-8pm at Tops Gallery and 8-9pm at Tops Madison Avenue Park

---
Tops Gallery is pleased to announce Man Finds Meteorites in His Yard (This is Planet Earth), an exhibition of new works by Josef Bull at Tops Gallery and Tops at Madison Avenue Park.
Believing in meaningful coincidences and the mystical potential of all things, Josef Bull's work meditates on anomalous chains of interconnected information.
Here, in new two-and three-dimensional constellations, specific characters and phenomena from contemporary culture intermingle with objects and practices of everyday life. Corporate yoga logos unite with kindred crop circle formations; LOTR antagonist Saruman frames Bull's paintings of famed start-up garages of Silicon Valley; Danny from The Shining morphs with a real-life namesake doppelgänger whose life-saving "hunch" was noticed by local Michigan News. Layered on both photographic and sculptural surfaces, these blends of found and original materials lay out Bull's attempts to both make sense of and recreate the feeling of bewilderment induced by an evermore confounding world.
At Tops at Madison Avenue Park, Bull's video installation This is Planet Earth (2017) looks at domesticity with an astronomer's gaze. Housed within a suspended propane barbecue, a handheld video tour of a suburban yard loops to the sound of a cab-driving Youtube user's existential rant on the miracle of life. Surrounded by other icons of the American home, the piece becomes a reflection on the domestic landscape as a container for inner and outer space.
HOME
TV
INNER SPACE/OUTER SPACE
METEORITES
EBAY
GOOGLE
GARAGES
CARS
CALIFORNIA
LORD OF THE RINGS
MAGIC WAND
MASTURBATION
TONY ROBBINS
BBQ
CLIMATE CHANGE
MUD
BACKYARD
BIRD BATH
EVOLUTION
JOEL OSTEEN
RED APPLE
ADDICTION
MOON LANDING
FRONT YARD
FIRE
BRENTWOOD
CAT
STEP COUNT
SURVEILLANCE
DIVINE LIGHT
UBER DRIVER
33
FRODO BAGGINS
42
OPRAH WINFREY
BLISTERS
RITE OF PASSAGE
BIRTHDAY
FALCON
RAT
YOUTUBE
1984
---
Josef Bull (b. 1984 in Huddinge, Sweden) lives and works in Brooklyn, NY. His work has been exhibited at Bonniers Konsthall, Stockholm; Museum of Ethnography, Stockholm; Situations, New York; and Tops Gallery, Memphis. In 2013, he was a recipient of the Maria Bonnier Dahlin Foundation Award, and in 2014 was the artist-in-residence on the scientific arctic expedition Swerus-C3. His work produced onboard was recently published by Solar Power Press as a set of books titled Arctic Mud (2017).