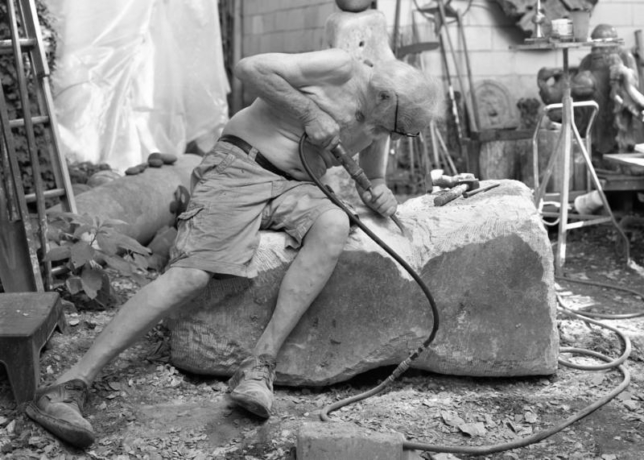 Exhibitions
JOHN MCINTIRE
John McIntire
Tops is excited to announce John McIntire, an exhibition of sculptures and drawings by the esteemed Memphis artist and enduring cultural figure.
For the show at Tops, McIntire will be exhibiting sculptures carved in marble and wood, recent drawings made on blank white baseball caps, and a selection of drawings and sketchbooks from the past 50 years.
An artist whose work is both virtuosically skillful and playfully experimental, McIntire is best known for his sculptures. The elegance and resolution of these modernist forms belie their creators restless energy. The works are solid and heavy and embody an ancient permanence. Included among these works will be McIntire'sgame sculptures. In these pieces McIntire teases the austerity of modernism by puncturing his essential forms with a maze of holes in which marbles can be inserted and expelled.
McIntire is also an artist equally engaged in the most ephemeral of forms. His interest in chance or luck incites his engagement with the overlooked and discarded. His searching impulse to glean and rescue attest to an ongoing openness to possibilities and a joy in objects. After McIntire came across some discounted white ball caps earlier this year he began making drawings on them, using the crown as a bulbous field to create unlikely scenes and transfiguring his find in the process.
A selection of sketchbooks from the past 50 years will also be on display providing glimpses into the artist's extensive involvement in Memphis culture and how his material work exists in concert with less tangible creative pursuits. From presiding over the 1960's creative hubs that were Beatnik Manor and the Bitter Lemon, to teaching sculpture for decades at the Art Academy and helping start the Memphis Country Blues Festival, McIntire has been a facilitator, collaborator, teacher, and an example for generations involved in concrete and fleeting creative endeavors. The sketchbooks on view depict sudden ideas jotted down, people (unknown and celebrated) drawn, figure studies and cartoons. These books depict whatever McIntire was involved in at the time, whether that was Furry Lewis playing at the Bitter Lemon or figure studies at the Art Academy or new plans for sculptures. All pursuits exist in these sketchbooks, as in life, one on top of another.