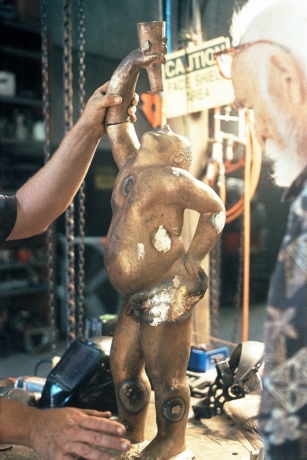 Exhibitions
JOHN MCINTIRE: FUN AND GAMES
John McIntire
Tops Gallery is excited to present Fun and Games, John McIntire's second solo exhibition with the gallery.
This show is centered around the work River Man, a sculpture that functions as a working fountain. The sculpture depicts a naked man in contrapposto pose simultaneously drinking a beer and peeing. The work describes the memory of carefree parties in the 1960's on the banks of the Mississippi River where one of McIntire's friends especially liked to take his clothes off and perform his "human fountain" method. This depiction of eternal consumption and expulsion is both comical and melancholic. It also depicts a time and place before the counterculture was fully co-opted by the corporate hegemony.
McIntire's restless creative spirit seems fueled by his fun loving nature. He is the opposite of the self-serious artist. But McIntire's love of the absurd belies the arduous nature of much of his work. Carving into marble and granite decade after decade is no joke and paying to have a sizable and atypical work cast in bronze is not done on a whim. Fun and games is undeniably synonymous with lifelong commitment and abiding interest.
---
John McIntire (b. 1935) Is an enduring cultural figure who taught at the Memphis College of Art from 1961-85, and owned the famed Bitter Lemon from 1962-65, his sculpture The Muse from 1976 is permanently installed on Main Street across from City Hall.