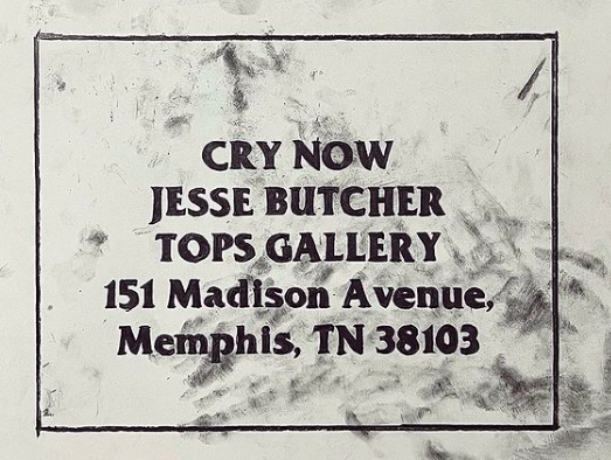 Exhibitions
JESSE BUTCHER: CRY NOW
Jesse Butcher
"Once, the future was only a continuation of the present. All its changes loomed somewhere beyond the horizon. But now the future's a part of the present. You dream of one thing and get something quite different." Stalker 1979
Tops gallery is excited to present Cry Now, a 6 x 12 foot drawing by Jesse Butcher.
Butcher's motivation lies in the apophenia one curates to make sense of the world around them. His works explore themes of safety, control and power and how these are constructed visually. The drawings reflect on how these ideas are consumed physically, mentally and emotionally. They perform a woven narration, constantly looping back, informing and reimagining themselves to reference a larger attempt at solving a mutating puzzle of an idealized landscape.
Cry Now will be available for viewing in the vitrine-like Madison Avenue Park gallery, twenty-four hours a day, seven days a week. The work's interpretation will change with the weather and time of day as to allow for multiple perspectives and meanings.
---
Jesse Butcher (b. 1982) is an artist, writer and educator currently living in Memphis, TN. Butcher received a BFA from The Rhode Island School of Design in 2005 and an MFA from The School of the Art Institute of Chicago in 2011. Butcher has been an artist in residence at the Graham Foundation during the Breaking Glass Summer Seminar and a HATCH Resident Artist at the Chicago Artists Coalition. Butcher worked with Locate Arts and Extended Play Press to release his first book "Think Of Me Like Days". He is a Co-founder of Walls Divide Press. His work is included in the collections of the Felix Gonzalez Torres Foundation, The Rhode Island School of Design, The School of the Art Institute of Chicago and The Phoenix Art Museum.