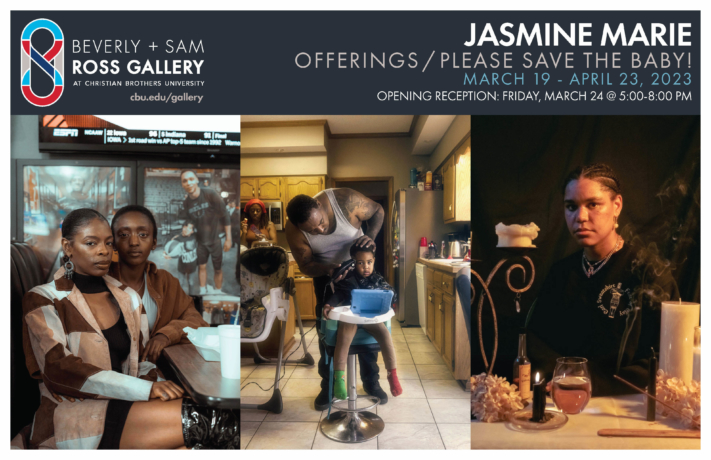 Exhibitions
JASMINE MARIE: OFFERINGS/PLEASE SAVE THE BABY!
Jasmine Marie
Jasmine Marie (born 1999, Memphis TN) is a photographer, writer, performer, curator and filmmaker whose personal work explores both the mundane and the fantastic of black life with a focus on southern black culture, and spirituality. With a leaning towards speculative fiction and afrosurrealism, she utilizes video, text, and portraiture to explore how the mediums work together to tell stories of love and identity. Her work also explores the connection between queerness, black femme identity, and the role of community through the lens of heritage and space. She currently lives and works in Memphis.
Please Save the Baby!
Through the combination of images/footage from her personal archive, found objects, personal belongings, and text, Jasmine Marie unpacks her coming of age in the arts scene while also contending with what it means to "hoard memories" and revisit the past to inform the future. In an effort to answer whether or not the trauma we carry can be transformed into tools to heal, this body of work functions as both an experiment in mixed media storytelling and a commemoration to friends and peers who walked away from their crafts prematurely as a result of the exploitation they experienced as youth artists.
Offerings
Spanning from 2019 to 2023, Offerings is a collection of photography by Jasmine Marie. With a focus on work created during her 2022 Crosstown Arts Residency, Jasmine's portraiture highlights black, queer, and non-men subjects in an effort to claim ownership in how they are represented and take up space. The photos selected range from candid captured moments to fully staged portraits and scenes to explore themes of family, identity, blackness, and love.