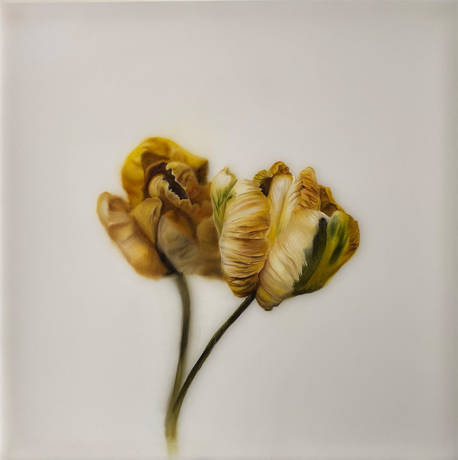 Exhibitions
JARED SMALL: DICTATES
Jared Small
David Lusk Gallery Memphis presents Dictates by Jared Small. Small is a native Memphian celebrated for his hyper-realistic portrayals of people, flowers, and aging houses with intricate detail and thought-provoking themes.
Small's practice skillfully navigates the delicate interplay between otherworldly settings and hyper-realistic subjects. Individual pieces, depicting historic homes, delicate flowers, and Black women, inspire contemplation on decay and rebirth, the passage of time, and the beauty in the ordinary and human experience. Dictates, a show of new portraits extended from his last body of work, as well as pieces that kicked off his painting career, that explored intangible layers of human experience through physical layers of paint on plexiglass, offers viewers a unique experience to simultaneously engage with the realities of people and nature while being transported to a dreamlike world.
Dictates maintains Small's fascination with time, growth, nature, and tranquility. Small's portraits radiate with striking detail, exploring the nuanced experience of both personal and shared emotions from the subjects' perspectives. Dramatic contrasts between the saturated rich colors and ethereal backgrounds further emphasizes the range of emotion these women experience and express.
Vibrant and dramatic color palettes in Small's portraiture allow him to fully capture the intrinsic essence of his subjects and gradually let them fade away into the panel through broad, blurred brushstrokes. This transition creates a space full of quiet sentiment in which viewers reflect on the essence of the subject matter while grappling with the dynamics created by the compositional components of the artwork. This body of work richly captures emotion and stillness, leaving a lasting impact on those who engage with it.
---
Jared Small attended Overton High School and the University of Memphis. He has participated in numerous exhibitions in Tennessee and a major solo exhibition at the Huntsville Museum of Art. His work is in the collections of Butler Snow Law Firm, Memphis; Commercial Bank and Trust, Memphis; Duke Aesthetic Center, Durham NC; Duncan Williams Inc, Memphis; Fidelity Investments, Raleigh, NC; HLM Venture Capital, San Francisco; Huntsville Museum of Art, Huntsville, AL; LeBonheur Children's Hospital, Memphis; M2M, Mobile Mercer Capital, Memphis; Memphis Brooks Museum of Art, Memphis; NSA Headquarters, Collierville, TN; Music City Center, Nashville; Pietrangelo Cook Law Firm, Memphis; Regions Insurance Headquarters, Memphis; St Mary's Episcopal School, Memphis; and Truist Bank Memphis, Headquarters.