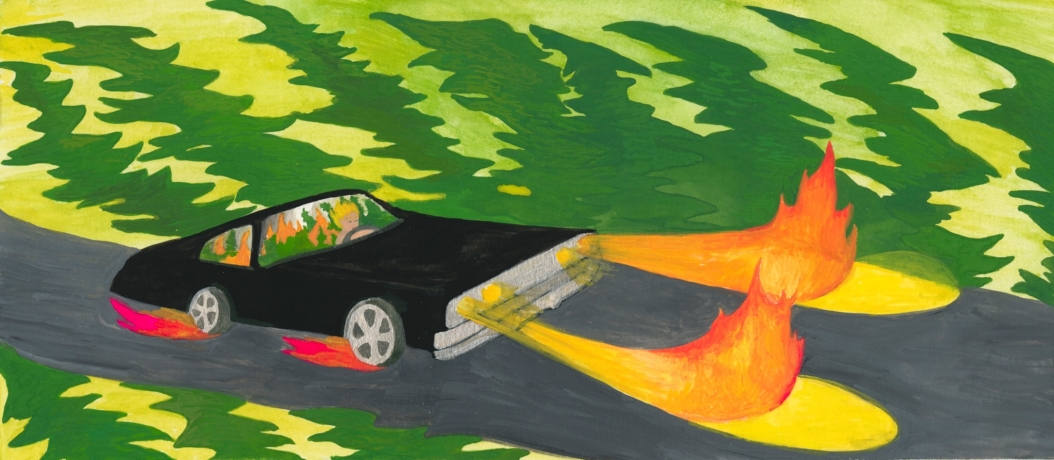 Exhibitions
ISABEL THESELIUS: BABY ON BOARD
Isabel Theselius
Isabel Theselius is a Swedish artist, currently based in the U.S., whose work takes many forms but continually investigates mortality, desire, memory, and more recently, superstition. By drawing from her own experiences, memories, and family relationships, Theselius' work is equally poetic and empathetic, relatable and enigmatic.
In the series, Baby on Board, consisting of two- and three-dimensional artworks, Theselius uses humor and superstition as a tool to process her own fears as a parent. In small, gouache paintings, Theselius has given her son supernatural powers, traveling through various landscapes surrounded by different creatures, sometimes riding on two cats or floating on a flying carpet.
In other paintings, the text "baby on board" is repeated over and over, referring to the signs on the back of cars to signal that other drivers should be extra cautious around their vehicle on the road. Only here, the text is sometimes barely legible, made in a psychedelic style, always with a version of the "evil eye" lurking in the background. In a kind of twisted logic, Theselius is imagining that she can prevent her fears of her son getting into an accident from happening in real life if she processes them through her art.