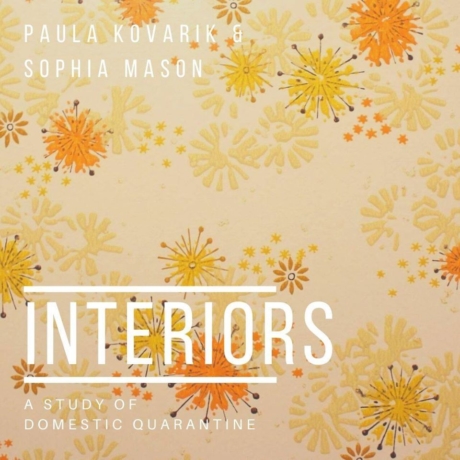 Exhibitions
INTERIORS: A STUDY OF DOMESTIC QUARANTINE
Paula Kovarik, Sophia Mason
In our current state of global quarantine, interiors are on our mind. Stay at Home orders have made us increasingly aware of domestic spaces as we strive to protect the interior of our bodies. As the days and weeks pass, we become more familiar with the everyday objects surrounding us. Cleaners like detergent and washing machines have become our saviors. We find comfort snuggled between pillows and blankets. But fear and anxiety still lurk and increase with time. Home is our sanctuary, but also a cage.

The domestic sphere has long been associated with women. The activities people now have picked up to pass the time—sewing, cooking, cleaning—are stereotypically performed by women. These activities can be comforting in their repetition and effect, while often born out of an anxious need for control. To many being confined to the home is new and daunting, but it has long been a part of the feminine reality. This exhibition shows the connection between the historic "quarantine" of women to the home and the COVID-19 pandemic through domestic themes and mediums.
Although women have more opportunity than ever, female craft remains underappreciated. This exhibition solely contains work by female Memphis textile artists, who have reinterpreted traditional practices like quilt making into art that is bold, political, and introspective. As you view this collection, consider how each object comments on the global health crisis, as well as reflects the personal worries and struggles of the women who created them.
---
Artist Bios
Paula Kovarik is a textile artist in Memphis, TN. She received her Bachelor of Arts in graphic design from Southern Illinois University at Carbondale. As the creative director and owner of Shades of Gray, Inc., a graphic design studio, she specialized in communications. Now, Paula's work serves as a balm to worry. Her textile art has been recognized by several national venues. She has been profiled in American Craft, Fiber ArtNow and Art Quilting Studio magazines.
Sophia Mason is a textile artist in Memphis, TN, raised in Wisconsin. She received her BA in Art from Rhodes College. Her sculptures, installations, and performances have been shown in exhibitions internationally and in the United States, including The Dixon Gallery and Gardens and Crosstown Arts in Memphis, Tennessee and at the Fundacion in Comillas, Spain. Her work has hung at the Memphis International Airport. She is the recipient of the Sally Becker Grinspan Award for Artistic Achievement.