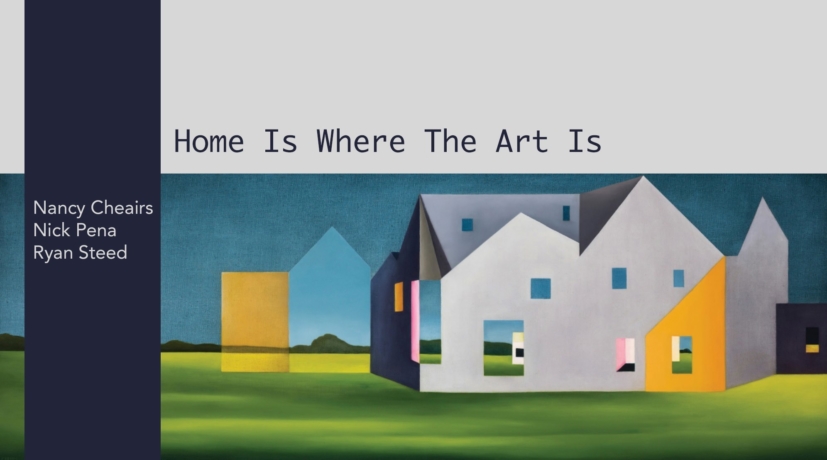 Exhibitions
HOME IS WHERE THE ART IS
Nancy Cheairs, Nick Peña, Ryan Steed
The students of Art 260: Curation in Context worked remotely with Memphis-based artists to think about what art can do during quarantine. The result is a group of virtual exhibitions that help us see the landscape, the home, personal relationships, and our own bodies with the clarity and insight that only art and artists can offer. Exhibitions will premier here on Facebook throughout this week, and then be archived on our website.
This is Home is Where the Art Is, featuring work by Nancy Cheairs, Nick Peña, and Ryan Steed, curated by Julia Conway.
Some artists benefit from intentional solitude created within a studio or enclosed space far removed from society where creativity can be conceived. However, how does one find inspiration in a global pandemic, under the forced quarantine standards we are in? How does an artist find creativity under the pressure of an international crisis? Home is Where the Art is explores the various ways in which the home has been transformed during this strange period of isolation. Under the intense strains of solitude many of us are feeling emotions of alienation or estrangement. By displaying images of the home motif this exhibition aims to document a period of isolation and the emotions that coexist that may resonate with viewers in unmatched ways. As a viewer, think about what emotions you experience viewing these pieces with a new outlook on the home during the confusing and quarantine period.
This exhibition looks at works created by three Memphis based artists, Nancy Cheairs, Nick Peña, and Ryan Steed. Selected works cover themes of isolation, solitude, and loneliness through depictions of dwellings in various mediums. We are more connected than we think during this strange time and our feelings of loneliness are entirely valid. Let us consider art's ability to unite us through the common emotions we experience during this time of intense confinement through the concentration on the home motif.
---
Artist bios:
Nick Peña: Nick Peña is a Memphis based artist and currently an associate professor of art in the Visual Art Department at Christian Brothers University. Originally from Illinois, Peña received his BFA from Southern Illinois University, Carbondale. He then went on to receive his MFA from the University of Missouri, Columbia. His work focuses mainly on American landscape contrasted with architectural scenes. His work has been shown throughout Memphis and all over the country.
Ryan Steed: Ryan Steed is a Memphis based photographer whose work focuses on documentary photography. He received both his BFA and MFA from Memphis College of Art with a focus on photography. Steed now teaches photography courses at Memphis College of Art. His photography has been featured in Memphis and across the southeast region.
Nancy Cheairs: Nancy Cheairs is a painter native to the city of Memphis. She received her bachelor's degree in fine art from Memphis College of Art. She also holds a master's degree in Fine Art from The University of Memphis. She is the founder of Flicker Street Studio. She has shown her work in solo and group exhibitions across the nation.