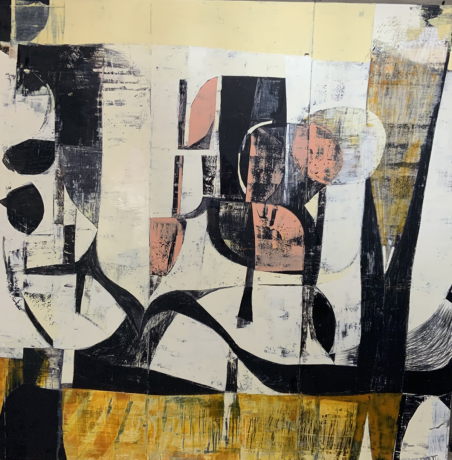 Exhibitions
DENNIS CONGDEN & SUSAN LICHTMAN: HERE IS WHERE WE MEET
Dennis Congden, Susan Lichtman
New work by Dennis Congden and Susan Lichtman in the Crosstown Arts West Gallery.
About Dennis Congden:
Dennis Congdon holds a BFA in Painting from RISD and an MFA from Yale. In 1983, he won the Prix de Rome and became a Fellow at the American Academy in Rome. He has taught painting and drawing at the School of the Art Institute of Chicago and the Tyler School of Art and has been on the faculty at RISD since 1984. In 2003, he received a Guggenheim Foundation fellowship, and in 2010, he received RISD's John R. Frazier Award for Excellence in Teaching.
Congdon's work has been exhibited widely. Since 2013, he has had three solo shows in New York City: CUE Foundation in 2013 (curated by Stanley Whitney,); Horton Gallery in 2014 ; and "Congeries" at Zieher Smith and Horton Gallery in 2015. In 2015, his large work "Hummocks" was included in the James and Audrey Foster Prize Exhibition at the ICA Boston (curated by kijidome).
About Susan Lichtman:
Susan Lichtman is a figurative painter of domestic spaces, working out of her home studio in southeastern Massachusetts. She is the Charles Bloom Professor of the Arts of Design at Brandeis University, where she has taught painting and drawing since 1980.
Lichtman received her undergraduate degree from Brown University and an MFA in Painting from Yale University School of Art. A recipient of a 2018 fellowship from the Massachusetts Cultural Council, she also has awards from the American Academy of Arts and Letters and the Louis Comfort Tiffany Foundation. She was the Frances Niederer Artist-in-Residence at Hollins University in 2017 and has been a visiting critic and lecturer at studio art programs throughout the U.S. and Europe. Lichtman has recently exhibited paintings at Steven Harvey Fine Arts Projects in New York, at Gross McCleaf Gallery in Philadelphia, and the Wilson Museum of Hollins University in Roanoke, VA.