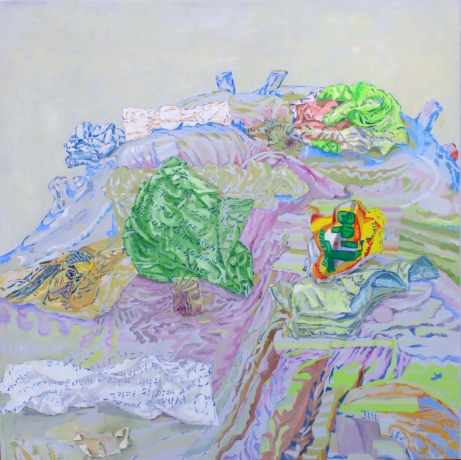 Exhibitions
DENNIS CONGDON & SUSAN LICHTMAN: HERE IS WHERE WE MEET
Dennis Congdon, Susan Lichtman
CROSSTOWN ARTS IS CLOSED UNTIL FURTHER NOTICE. PLEASE FOLLOW SOCIAL MEDIA PAGES FOR UPDATES.
---
Crosstown Arts Gallery is pleased to present a two-person exhibition, Here Is Where We Meet, curated by Laurel Sucsy, from February 28 – April 19, 2020. The gallery will host a public opening reception on Friday, February 28th from 6 - 8 PM.

Here Is Where We Meet will feature large-scale paintings and works on paper by Dennis Congdon and Susan Lichtman. The artists' styles are decidedly distinct and yet united by the deliberate attention given to the way in which a painting is constructed. Congdon makes playfully saturated works with the use of a stencil template. Lichtman is a figurative painter of domestic spaces who understands the practice of painting to be a "life of the mind". Here is Where We Meet looks at how each artist riffs on the language of painting as well as the written word. Throughout the exhibition, writers and poets will be invited to respond to the visual works. Curator Laurel Sucsy states, " I am inspired by the relationship between painters and poets and how artists working in each discipline use the other for inspiration and structure". In the month of April, the gallery will host a poetry night during which a collection of responses will be presented to the public.
Please join the artists and curator for a discussion on Saturday, Feb 29th at 1:00 in the West Gallery. This LifeWorks exhibition was made possible by the generous support of the Don Pelts Memorial Foundation.
ABOUT THE ARTISTS
Susan Lichtman is the Charles Bloom Professor of Art and Design at Brandeis University where she has taught painting and drawing since 1980. She received a BA from Brown University and an MFA from Yale School of Art. A recipient of a 2018 fellowship from the Massachusetts Cultural Council, she also has awards from the American Academy of Arts and Letters and the Louis Comfort Tiffany Foundation. She was the Frances Niederer Artist-in-Residence at Hollins University in 2017 and has been a visiting critic and lecturer at studio arts programs throughout the US and Europe. Lichtman has recently exhibited paintings at Steven Harvey Fine Arts Projects in New York, at Gross McCleaf Gallery in Philadelphia and the Wilson Museum of Hollins University in Roanoke, VA.
Dennis Congdon holds a BFA in Painting from the Rhode Island School of Design (RISD) and an MFA from Yale. In 1980 he won the Prix de Rome and became a Fellow at the American Academy of Rome. He has taught painting and drawing at the School of the Art Institute of Chicago and the Tyler School of Art and has been on the faculty at RISD since 1984. In 2003 he received a Guggenheim Foundation fellowship and in 2010 RISD's John R. Frazier Award for Excellence in Teaching. Congdon's work has been exhibited widely. Since 2013 he has had three solo shows in New York City; at the CUE Foundation in 2013, (curated by Stanley Whitney,); at the Horton Gallery in 2014; and Congeries at Zieher Smith and Horton Gallery in 2015. In 2015 his large work "Hummocks" was included in the James Audrey Foster Prize Exhibition at the ICA Boston, (curated by kijidome.)
ABOUT THE CURATOR
Laurel Sucsy is a painter and writer living in Memphis, TN. She received a BA from Bowdoin College and an MFA from Tyler School of Art. She has taught at Rhodes College and Memphis College of Art. Recent curatorial projects include Between the Eyes, an exploration into abstract painting and how we see it. Recent exhibitions include Finding the Edge, at The Dixon Gallery and Gardens (TN) and Paintings at John Davis Gallery (NY). She is the director of LifeWorks, which aims to activate a sense of community through exposure to the arts.