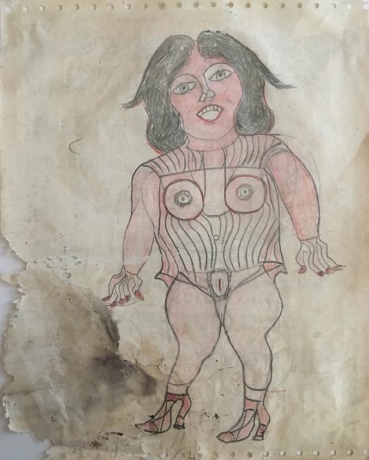 Exhibitions
HENRY SPELLER AND COY LOVE: DRAWINGS AND SONG
Henry Speller, Coy Love
Tops Gallery is pleased to announce Drawings and Song an exhibition of works by Henry Speller and Coy Love. This show features nine drawings on paper by Speller & one drawing on board by Love. In addition to the drawings a limited lathe cut record documenting a 1978 home performance by Love, Speller, and his wife Georgie Speller has been produced by the gallery.
In the 1970's and 80's Speller lived on Butler Avenue a few blocks south of Beale Street. While supporting himself working menial jobs, Speller made hundreds of pencil and crayon drawings. In his first drawings he used discarded continuous form paper found in the garbage. These early works, on view in this exhibition, are drawn on the back of this paper with the computed tabulations and coding faintly visible underneath. Speller's exaggerated figures are amplified depictions of his environment in Memphis. The women he draws are isolated on the paper and their fetishized breasts and vulva are transfigured into a visage that is both comical and frightening. Speller's use of pattern and symmetry render the figures with undulating rhythms while grounding the subjects in a rigorous form.
Henry Speller was born in 1903 and grew up in the tiny Delta community of Panther Burn, Mississippi near Rolling Fork. Speller's cultural roots were embedded in the pre war Mississippi Delta environment. He was a traditional Delta blues musician who by some accounts was friendly with Charley Patton and played with Howlin' Wolf and Muddy Waters before permanently settling in Memphis in the early 1940's.
Also included in Drawings and Song is a rare example of bluesman Coy Love's visual work. Much of his art has been lost over the years and this brightly colored and graphically taut landscape is likely the first connection to Henry Speller that has been presented.
Coy "Hotshot" Love was born in 1914 in Clarksdale, Ark. He worked in Memphis as a sign painter and harmonica player and recorded one 45 for Sun Records in 1954. Love and his wife lived in a house in the Beale Street area, near Speller, with a small sign in the front yard announcing "ARTIST". Collector and archivist Jerry Pevahouse made the recording accompanying Drawings and Song in the Speller home on Butler Avenue in June of 1978. Coy brought Jerry to the Speller's home where he recorded Coy, Henry, and Georgie playing music.
The drawings and music in this show are the product of two artists who were deeply connected to the cultural legacy of the Delta and of Beale Street, but neither Speller nor Love were adequately acknowledged or rewarded for their work during their lifetime. In a 1979 article about Speller in The Commercial Appeal, he says "I saw some pictures and I just took it in my head to see if I could do some. I could. It was my talent." Speller's wife Georgie added, "That's all he does, draws and picks that old guitar."
In addition to the works presented there will be numerous archival documents, photographs, and an extensive essay by writer Hunter Braithwaite.
Henry Speller's work is included in permanent collections of The Metropolitan Museum of Art, The American Folk Art Museum (New York), The Smithsonian American Art Museum, and the High Museum of Art. Coy Love is known for one elusive 45 he recorded for Sun Records in 1954.