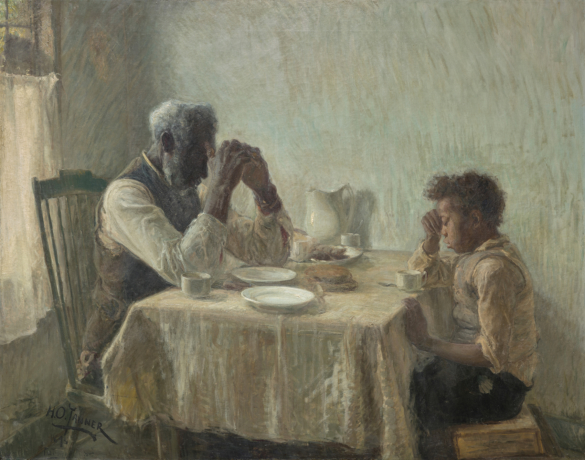 Exhibitions
HENRY OSSAWA TANNER: THE THANKFUL POOR
Henry Ossawa Tanner
Henry Ossawa Tanner (1859-1937) was born in Pittsburgh, Pennsylvania to an African Methodist Episcopal (A.M.E.) bishop father and a mother who escaped enslavement via the Underground Railroad. He later became the first African American artist to attain international recognition. Tanner initially studied with the famed American Realist painter Thomas Eakins at the Pennsylvania Academy of Fine Arts but later decided to move to Paris to study at the prestigious Académie Julian art school, in part to escape the discrimination he experienced in the United States. There, he became a mentor for other Black artists such as Aaron Douglas, Palmer C. Hayden, William H. Johnson, Nancy Elizabeth Prophet, and Hale Woodruff.

By 1900, Tanner cemented his position as a leading American painter in Paris and the preeminent biblical painter of his time. Tanner traveled the world throughouthis life, most notably to the Holy Land (including Egypt, Morocco, and Palestine),the subject of many of his paintings in the latter half of his career. He found much success abroad, participated in multiple Paris Salons starting in 1874, and was later named honorary chevalier (Knight) of the Order of the Legion of Honor of France in 1927, the highest French order of merit.
The Thankful Poor, titled by the artist, is one of the artist's last known "genre" paintings—images that depict everyday or ordinary domestic scenes—before he transitioned almost exclusively to religious scenes. While read differently by today's audiences, the artist's title aimed to honor the contributions and struggles of poor Black people in the South, where this work was likely painted. In stark contrast to the degrading imagery of African Americans that proliferated in American culture in the late nineteenth century, The Thankful Poor showcases the humanity of an impoverished older Black man and a young Black boy, as they bow their heads in a dignified prayer before a humble meal.