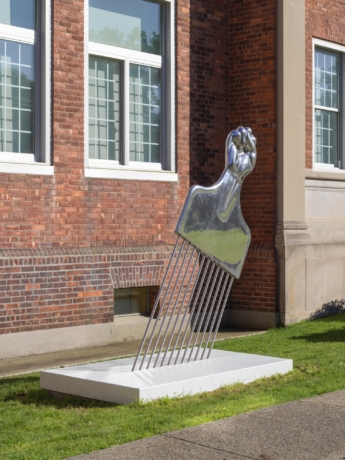 Exhibitions
HANK WILLIS THOMAS: ALL POWER TO ALL PEOPLE
Hank Willis Thomas
All Power to All People is an eight-feet tall Afro pick with a power fist cast in aluminum. The origin of the Afro pick dates back to the time of ancient Egyptians as an article of status and cultural belonging. The clenched black fist comb in particular is associated with the 1970s Black Power Movement. As an accessory of a hairstyle, it represented counterculture and civil rights during one of the most important eras of American history. It exists today as many things to different people; it is worn as adornment, a political emblem, and signature of collective identity. The Afro pick continues to develop itself as a testament to innovation.
Symbolically installed in Fourth Bluff Park on the former site of a Confederate statue, this piece serves to highlight ideas related to community, strength, perseverance, comradeship and resistance to oppression.
---
Image: All Power to the People (Reflection), 2021, aluminium and stainless steel, 98 x 43.5 x 2.5"