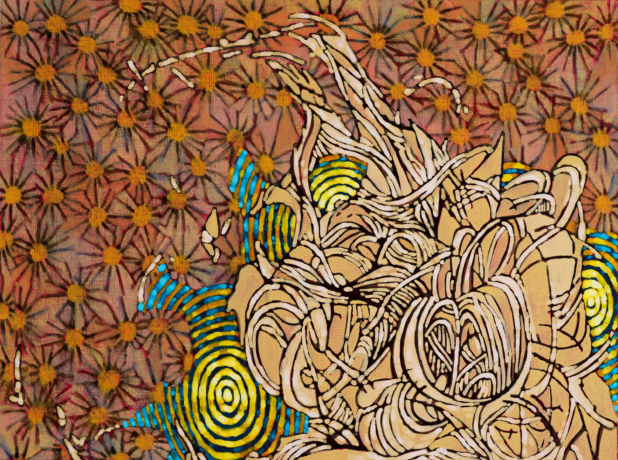 Exhibitions
HAMLETT DOBBINS: ONE PART OF MY SMALL STORY
Hamlett Dobbins
Memphis painter Hamlett Dobbins kicks off Spring at David Lusk Gallery Memphis with ONE PART OF MY SMALL STORY.
Dobbins employs painting and abstraction to process experiences of pure consciousness and total presence. This show is a continuation of the practice he's maintained for two decades: he makes paintings that look at moments where he feels a whole-body pleasure. His paintings reflect that emotional energy and inspire deeper perception and mindfulness.
Of this body of work, Dobbins says, "for a long time, I was solely interested in making paintings that were singular experiences, each one in a show different from the next. But for the last few years I've allowed myself to revisit moments. One painting leads to another or maybe takes a different path than the one that preceded it in the preliminary steps of its construction."
Often described as a "painters' painter," Dobbins' unique approach to shape and form provide the foundation for complex surface layers and depth color and pattern orchestration. His obsession with structure, texture, and color play began with his love of Legos as a child. Dobbins transformed his images constructed from basic shapes into paintings that relate nonphysical feelings into tangible compositions. In palettes, titles, and complexities, the paintings are unique to the places and people they commemorate.
A Tennessee native, Hamlett Dobbins received his BFA in painting from University of Memphis and his MA and MFA from the University of Iowa. He currently lives and works in Memphis, where he teaches at the University of Memphis. Awarded the Rome Prize in 2013, Dobbins spent a year at the American Academy in Rome for a year. He has participated in exhibitions across the United States and abroad and is the recipient of numerous awards and residencies, namely the Pollock-Krasner Foundation Grant, Best of Show, Arts in the Park Juried Show; Bemis Center for Contemporary Art, Residency; and the ArtsAccelerator Grant, ArtsMemphis. His work is in public and private collections in Memphis and the Midsouth.