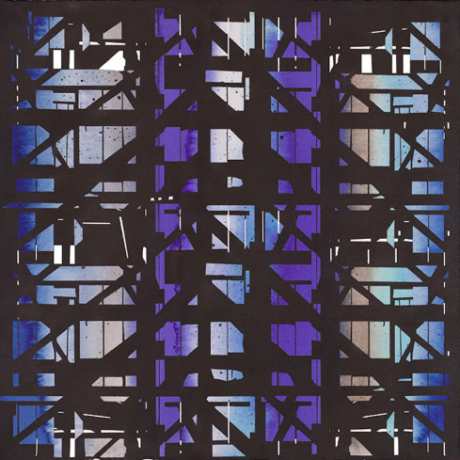 Exhibitions
GEORGE DOMBEK: NEW WORK
George Dombek
AS A RESULT OF CLOSURES DUE TO COVID-19, PLEASE FOLLOW GALLERY WEBSITES AND SOCIAL MEDIA PLATFORMS FOR SCHEDULING UPDATES AND VIRTUAL EXHIBITION CONTENT.
---
George Dombek is recognized nationally for his mastery of watercolor. Trained as an architect and an artist, Dombek creates elegant minimalist compositions of barn exteriors and interiors, and close-ups of farm implements that are often reoriented into figurative gatherings. Dombek studies the barns, disassembling and reassembling them and capturing the play of light and shadow through the process. Throughout his practice he creates wholly unique structures, blurring the lines between reality and invention. Dombek consistently employs his sense of humor with the mechanical skills of an architect: discarded farm equipment waits eagerly behind the structure, trucks emerge from the bays, and wood and metal sneak away from their nails. Vintage equipment and other objects become elevated to whimsical characters engaged in conversation and play.
---
George Dombek lives and works at his home/studio outside of Fayetteville, AR. He received a B.Arch in Architecture and an MFA in Painting at the University of Arkansas, and taught architecture and art at universities in Arkansas, Ohio, Florida, Saudi Arabia, and Italy. Over a 40-year career he has generated a body of work included in over 800 corporate and private collections, and many museum collections, including Crystal Bridges Museum of American Art in Bentonville, AR; Arkansas Arts Center, Little Rock; Birmingham Museum of Art, AL; Butler Museum, Youngstown, OH.