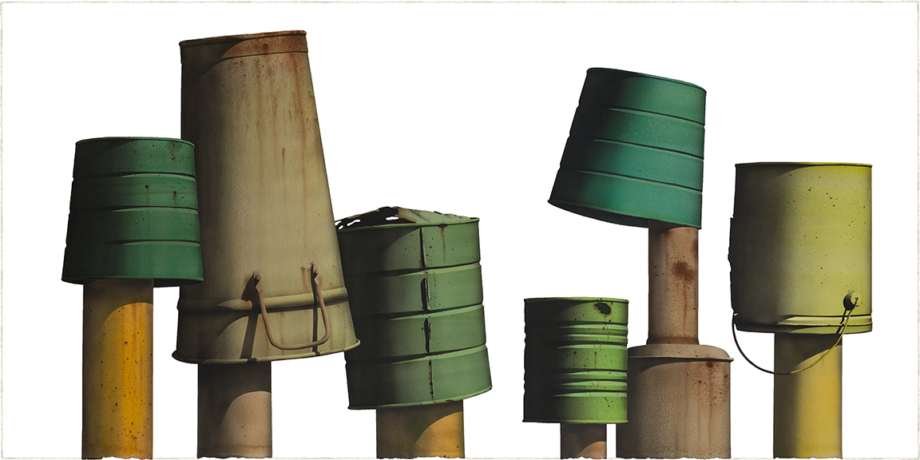 Exhibitions
GEORGE DOMBEK: RECENT PAINTINGS
George Dombek
David Lusk Gallery is pleased to present their first solo exhibition of the work of George Dombek this fall at the gallery in Memphis. This show, Recent Paintings, contains nearly twenty of Dombek's expertly rendered water-media works of barns, farm equipment, and his Ozark portraits. A large new monograph Barns & Portrait Paintings, published by the University of Arkansas Press, accompanies the exhibition.
An architect and an artist, Dombek creates elegant minimalist compositions of barn exteriors and interiors, and close-ups of farm implements that are often reoriented into figurative gatherings. The beams inside his barns, varying in weight and size, crisscross through the spaces, capture and play with light and shadow. Dombek studies the barns, disassembling and reassembling them through his painting process. As in his Ozark portraits depicting machinery parts, he creates wholly unique structures, blurring the lines between reality and invention.
---
Dorothy Sturm's mixed media paintings on paper from the early 1980s will be shown along with Dombek's paintings. In 1964, the David Lusk Gallery Memphis building (at 97 Tillman) was built to house the Oates Gallery, and there in 1980 Oates Gallery first exhibited many of these Sturm drawings. For that show Sturm, a long-time teacher at the Memphis College of Art, returned to the human figure after years creating enamel compositions. These story drawings and the building at 97 Tillman both come full circle in this exhibition.
A modern artist not afraid to experiment wildly, the paintings on paper in this show embody Sturm herself: there is an emphasis on pattern, and every element is symbolic. After wadding up charcoal paper to crinkle and age it, Sturm used ink and jewel-toned watercolor and her uncanny sense of design to bring forward gothic stories and memories of another era and place.