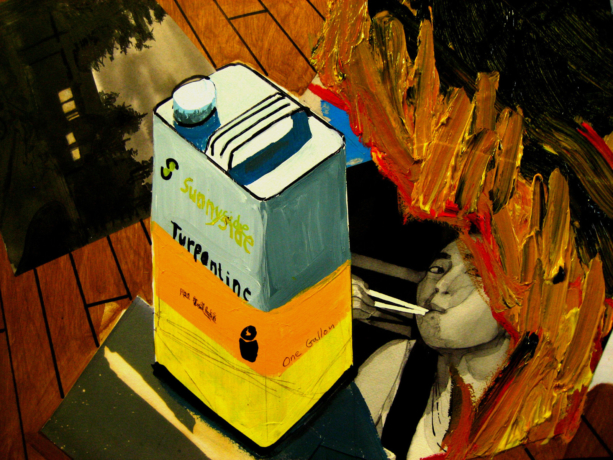 Exhibitions
EZRA JOHNSON: WHAT VISIONS BURN
Ezra Johnson
New work by Tampa, Florida-based artist Ezra Johnson in the Screening Room.
Artist Statement:
* What Visions Burn 2006 — What Visions Burn was the first animation I ever made. I was getting my MFA at Hunter College in New York and decided to go for it four months before my thesis exhibition after seeing the work of William Kentridge at the MOMA. I wondered what it would be like in paint and went to my studio on 41st street and made the sequence where a silhouetted figure cuts a painting out of the frame that night. I did it by balancing my Cannon Elf camera on a book and shooting the painting against the wall. Because I didn't have a tripod, you can see the camera wiggle a lot. The next days, weeks, and months I made more and more footage, most everything I made became What Visions Burn. The processes are invented to solve the problem of each unique scene. I never studied animation so I never learned how else to do it. I used oil paint frame by frame to make certain parts, such as the sky in the opening. I used collage components and photocopies of drawings to make other parts, like the police chase. In many scenes, I combined both techniques. I was exhilarated by inventing new ways to make images and to tell stories.
* Endless Surface 2016 — Endless Surface was created over the course of one month while I was teaching in Paris. I wanted to make an animation where the narrative wasn't created by moving characters from scene to scene but by morphing one image into another. I was thinking of the cross-dissolve transitions that Hollywood films use in flashback sequences. This approach makes it less about storytelling and more like "a heap of broken images," as T.S. Elliot wrote in The Waste Land: "What are the roots that clutch, what branches grow/Out of this stony rubbish? Son of man,/You cannot say, or guess, for you know only/A heap of broken images, where the sun beats…
* River 2018 — Currently, I live on the Hillsborough River in Tampa, Florida. At certain times, especially after a hard rain I am appalled by the vast amount of trash that floats by or washes up on the banks. This river is home to manatees, dolphins, alligators, large turtles, and tons of different types of fish. I find it difficult to deal with my shock and frustration by people's indifference to the environment. I've been cleaning what I could since I moved here in 2015, and then I started painting the trash in 2018 and made this animation. I've always loved to use objects and logos from commercial culture in my work. With "River," I was able to do that and make a piece that addressed my frustrations at the same time. I decided to zoom out and show the process of animating through the tools at work in the margins. I enjoy the combination of the two kinds of work happening at once: There is the river with its flow pushing an absurd quantity of objects from the right to the left and there are the tools lined up on the edges, organized for efficiency while making the illusion happen.
* Trampoline and Shapeshifter 2008
Trampoline and Shapeshifter were both made as screensavers, commissioned by the DIA Center in New York. They are an example of the two main approaches I've developed to create the animations. Trampoline is made using collage paintings on cut paper, where if you look closely, you can see that there are only ten or so components that are used over and over to make an infinite loop.
Shapeshifter is made by moving oil paint; basically painting, taking a shot, and repainting over and over. If you look closely, you can see traces of paint from the previous frame that weren't entirely wiped away.
About the artist:
Ezra Johnson was born in 1975 in Wenatchee Washington. His work moves between painting, sculpture and animation. Johnson has exhibited his work at The Nerman Museum of Contemporary Art in Kansas, The Hammer museum in Los Angeles, Site Santa Fe in New Mexico as well as having regular exhibitions at prestigious galleries in the US and abroad. Mr. Johnson currently lives and works in Tampa, Fl.