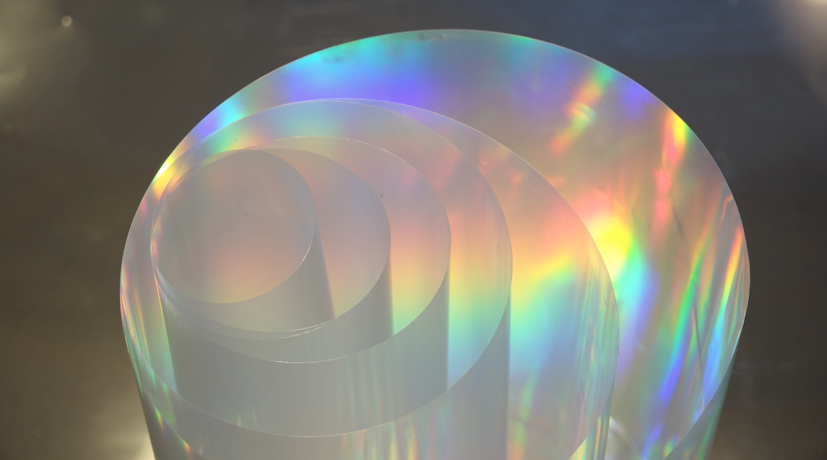 Exhibitions
EMILY C. THOMAS: IMPRISMED
Emily C. Thomas
An exhibition of paintings, sculpture, and digital objects that constructs a dialectic between the repression and cultivation of psycho-sexual energies through the ages.
On view: January 26 - March 11
Opening reception: Friday, January 26, 6-8 pm
"The most perfect medium would be an invisible one." — Terence McKenna
Imagine walking into a gallery space and telepathically downloading a mirage of visions, ideas, and living information. IMPRISMED proposes to explore the unconscious infrastructures that inform our perceptions within the lineage of visionary thinkers and cultural commentators such as Marshall McLuhan.
During the 1960s, McLuhan became a leading intellectual, initiating the emerging field of Media studies. He coined revolutionary maxims such as "the medium is the message," and even predicted the internet nearly 30 years before its invention. This show contains paintings, sounds, sculpture and digital objects made of light — a full range of materials dating back through humanity's most historic to most recent artistic innovations — all of which attempt to nurture an awareness of how the medium defines their meaning.
Human history contains many examples of the use of torture devices on individuals in order to extract information or force confessions, such as their use during the Salem Witch Trials and Spanish Inquisition. Back in the 1800s, Native American peoples were wary of their souls being captured if they allowed themselves to be the subject of a photographs, as if the spirit might become locked into the material density of film. McLuhan also warned against such phenomena when he said, "The more data banks record about us, the less we exist."
In our time, we willingly use internet search engines and other digital platforms such as Facebook that extract our personal information and archive it within a massive database. One use for this pooling of data is for the creation of A.I. or artificial intelligence. Coincidentally, the National Security Agency's (NSA) surveillance operation which collects data through major internet platforms, such as Yahoo, Google, Facebook, Microsoft, YouTube, Skype, and Apple, is referred to under the code name PRISM. If mediums themselves are the crystalized remains of our communicative processes, does the accumulation of data put the human spirit at risk for eternal imprisonment within the material realm?
The crystalline mineral structure is capable of producing electricity and sending signals. Digital and nanotechnologies depend upon crystals to control the operations of their systems. Quartz watches, computers, cell phones, solar panels, and liquid crystal displays (LCD) contain a matrix of crystalline technology. Within a spiritual context, many New Age syncretic religions also utilize the energetic qualities of crystals and mineral formations within the ritual setting. In this context, crystals and minerals act as catalysts for the transformation of psycho-sexual energies
Part visual boot camp, part torture dungeon and New Age sanctuary, IMPRISMED constructs a dialectic between the repression and cultivation of psycho-sexual energies through the ages.
About the Artist:
Born and raised in Memphis, Tennessee, Emily C. Thomas is an interdisciplinary, project-based artist who has lived and worked in New York, Los Angeles, Santa Barbara, Memphis, and Amsterdam, The Netherlands. She received a BFA from NYU in 2009 and a MFA from UC Santa Barbara in 2015.
Thomas's practice is a holistic response to the fragmentation of consciousness, resulting from institutionalized segregation of knowledge and the classification of individuals into cultural, social, gender, and human vs. nonhuman roles. Acting as a medium, she conjures visions of trans-rational and transpersonal realms that dissolve divisions within consciousness.
She materializes these visionary states through installation, animation, film, sculpture, painting, and sound to fabricate self-reflecting worlds of initiatory experience. As cognizant of the digital as she is of the archaic (a time when the disciplines of philosophy, science, religion, magic, and art were one unified field of exploration), her work often juxtaposes the concepts of Enlightenment within Eastern and New Age spiritual practices and The Scientific Revolution's Age of Enlightenment that developed within 18th-century Europe.
Her imagery frequently alludes to the practice of observing color, light, and darkness as a way to gain insight into the spiritual and scientific nature of reality. Her work is created by equal parts research, imagination, and hands-on experimentation with materials and technology. The result is an aesthetic that embraces elements of the handmade alongside digital and obsolete technologies.