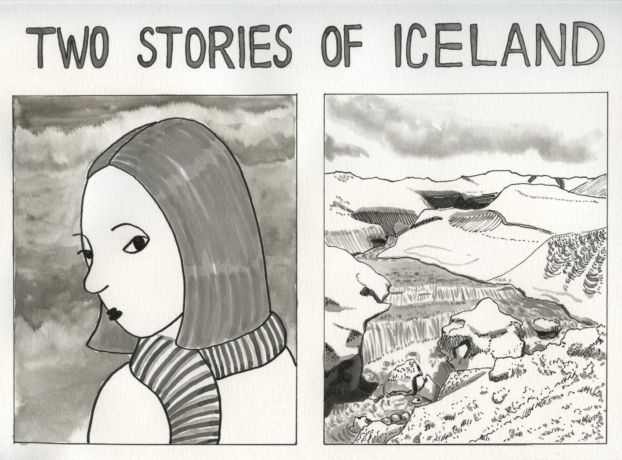 Exhibitions
ELIZABETH ALLEY: TWO STORIES OF ICELAND
Elizabeth Alley
Two Stories of Iceland is a narrative exploration of Icelandic stories and landscape in small paintings and drawings by Elizabeth Alley.
On view: January 26 - March 11
Opening reception: Friday, January 26, 6-8 pm
Artist Statement:
Iceland is dramatic and magical, with mountains, lava fields, the original geyser, visible tectonic plates, and rivers that dramatically cut through the landscape and produce giant waterfalls that look like they drop into the abyss. Just looking at the rocks covered with moss, or the lupin flowers creating an intricate pattern, or the steam venting out of hot springs in the distance makes you feel like you are in a magical story. The people are lovely with a dry and dark sense of humor and a deep belief in spirits, which is fitting for a place where the landscape feels like a presence.
Two Stories of Iceland is a narrative exploration of stories of Iceland in small paintings and drawings. In one series, a true story about a young woman who disappeared, plays out in small ink drawings that tell the story of the ensuing search, investigation, and the impact this event had on the community. Another series is of a trip I took to Iceland in 2015 with my best friend, who is Icelandic, and our families. As I tell the story of the trip in small paintings and drawings, I re-live the trip obsessively.
Telling these stories through sketching and painting keeps me connected to the experience and to this place that now lives in my heart.
About the Artist:
Elizabeth Alley was born in Memphis, Tennessee, and has a Bachelor of Fine Arts in painting from the University of Memphis. In addition to making paintings and filling up sketchbooks, she teaches at Flicker Street Studio and organizes Memphis Urban Sketchers. Since 1999, she has organized, curated, produced, and participated in 32 solo and group shows.
She spent over 11 years in public art administration, two years in the roller derby, served as president of Urban Sketchers, and by day works as a technical communicator with a flair for project management. Other interests include reading, traveling, making lists, and staring out the window.