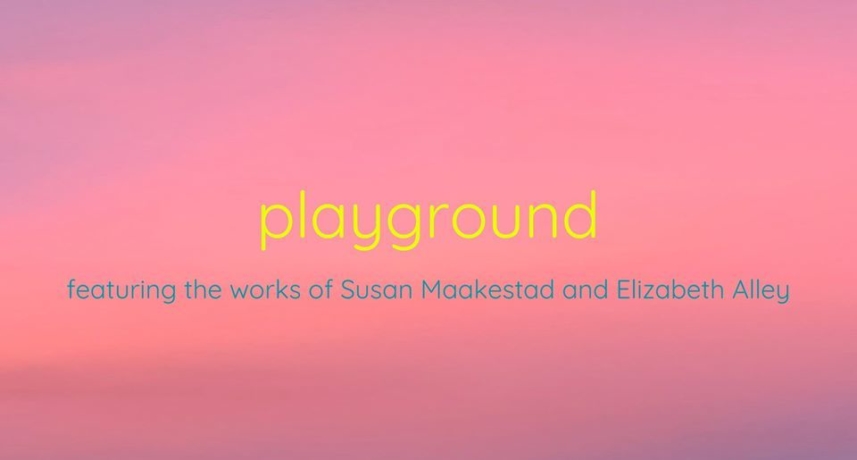 Exhibitions
​ELIZABETH ALLEY AND SUSAN MAAKESTAD: PLAYGROUND
Elizabeth Alley, Susan Maakestad
The students of Art 260: Curation in Context worked remotely with Memphis-based artists to think about what art can do during quarantine. The result is a group of virtual exhibitions that help us see the landscape, the home, personal relationships, and our own bodies with the clarity and insight that only art and artists can offer. Exhibitions will premier here on Facebook throughout this week, and then be archived on our website.
This is playground curated by Dreseden Timco.
With the world all stuck inside one of the few escapes we can find from domestic life is a trip outside. The warm sun hits our skin making us feel a little more energized and the smell of the leaves and grass is just a little more pungent as spring is the only thing not on pause. Nature right now holds an extra power that it hadn't before, something that can be transcendental and send us spiraling into another universe. We create our own world outside now and tailor how we view it to our needs and wants. The works of both Susan Maakestad and Elizabeth Alley help us understand how nature can be viewed as a personal transcendental experience through color and memory. When going through the images, rather than trying to figure out where in nature these were inspired by, think about the feeling they give off. Is this feeling something new to you? Is it something you felt before being confined to your house? Focusing on the ideas of how memory and feeling used through the vehicles of color and shape can influence how an artist depicts nature. This exhibition pays homage to those staying home and using nature as their playground.
---
Susan Maakestad is a Professor at Memphis College of Art. She graduated from the University of Iowa with a M.F.A in painting and with a BA and MA from Central Washington University. She is currently represented by the Rymer Gallery in Nashville, TN. Her works have previously been shown locally in Memphis at the Brooks Museum of Art as well as the City of Memphis. Maakestad has been awarded the National Endowment for the Art fellowship from Arts Midwest in 1988 as well as the 2013 ArtsAccelerator Grant from ArtsMemphis, purchase awards from the UrbanArts Commission in Memphis and three individual artist grants from the Peoria Area Arts and Sciences Council. She has also been a fellow at the MacDowell Colony and the Virginia Center for the Creative Arts.
Elizabeth Alley is a painter, sketcher, teacher, and technical writer based in Memphis, TN. She has a B.F.A from the University of Memphis in Painting. For 10 years she has served as a technical communicator, 11 years as a public arts administrator, and had previously served as the president of the Memphis Urban Sketchers. She teaches at Flicker Street Studios as well as organizes the Memphis Urban Sketchers. Alley has participated in over 30 group and solo shows since 1999.