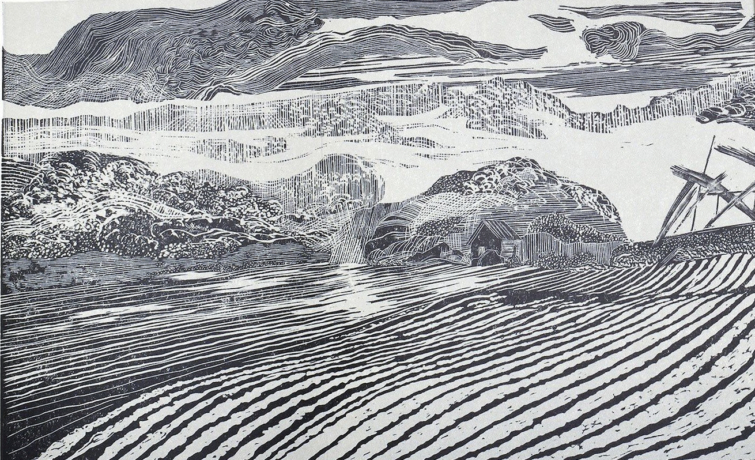 Exhibitions
DUE SOUTH: KE FRANCIS AND HOOPSNAKE PRESS
Ke Francis
The desire to tell stories is universal. Through storytelling, we can entertain, inform, and connect with one another. The work of Ke Francis (American, b. 1945, Memphis) embodies the rich tradition of story telling in the American South. While Francis is recognized for his work in a variety of media including painting, sculpture, and photography, this exhibition highlights the artist's exceptional talent for printmaking and book arts that he produced through Hoopsnake Press. His tales, told through words, images, and occasionally sound, introduce the viewer to a unique cast of characters ranging from Billy Jay, a hot sauce connoisseur, to a walking pet catfish who forgets how to swim. At times moralizing or cautionary, and always entertaining, his work responds to everyday life in all its highs, lows, and the mundane moments in between.
Hoopsnake Press in Tupelo, Mississippi, was founded by Francis in 1970, and is run by Francis, his wife, Mary, and daughter, Kerry. There, he writes, designs, illustrates, prints, and binds artist's books along with a group of seven associated artists, and he frequently collaborates with artists, poets and musicians. Francis studied at the Memphis Academy of Arts(1964–1967) and earned his BFA from the Cleveland Institute of Art in 1969. His work is exhibited nationally and is held in public and private collections including the High Museum, Atlanta, GA; The J. Paul Getty Museum, Los Angeles, CA; The National Gallery of Art, Washington, DC, and the Memphis Brooks Museum of Art, among many others.
The works on paper in this exhibition are light sensitive. To preserve these works long-term, this exhibition will change with new works by Ke Francis and Hoopsnake Press on April 27.
Presented in conjunction with the exhibition will be a book reading by Ke Francis followed by a conversation with the artist and Dr. Patricia Daigle, Associate Curator of Modern and Contemporary Art, at the Memphis Brooks Museum of Art. Date May 4, 2022.