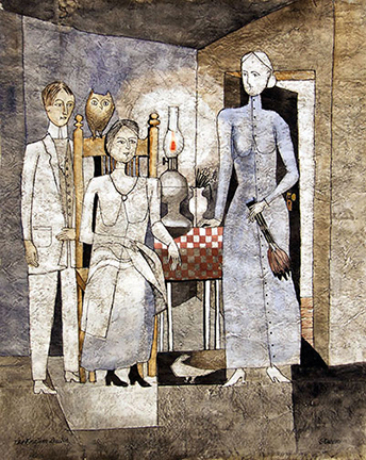 Exhibitions
DOROTHY STURM: FULL CIRCLE - STORIES ON PAPER
Dorothy Sturm
This fall, David Lusk Gallery presents a collection of Dorothy Sturm's mixed media paintings on paper from the early 1980s. In 1964, the David Lusk Gallery Memphis building (at 97 Tillman) was built to house the Oates Gallery, and there in 1980 Oates Gallery first exhibited many of these Sturm drawings. For that show Sturm, a long-time teacher at the Memphis College of Art, returned to the human figure after years creating enamel compositions. These story drawings and the building at 97 Tillman both come full circle in this exhibition.
A modern artist not afraid to experiment wildly, the paintings on paper in this show embody Sturm herself: there is an emphasis on pattern, and every element is symbolic. After wadding up charcoal paper to crinkle and age it, Sturm used ink and jewel-toned watercolor and her uncanny sense of design to bring forward gothic stories and memories of another era and place.
For example, in The Chinaberry Tree a family stands next to their small, dilapidated house. A peek inside reveals few belongings and one source of light, while the small child holds a small bright object and one woman clutches her basket and the woman next to her. The Chinaberry tree grows taller than the house, looming over it as darkness sets in along with a melancholy feeling.
Sturm played a pivotal role in the development and advancement of contemporary art and ideas in Memphis for more than 50 years. She returned home to Memphis in the mid-1930s following her time in New York at the Grand Central School of Art, the Art Students League and Columbia University. "She cast the spell of relentless good sense and joyful hard work over several generations of students," Frederic Koeppel states in Cobalt: The Art of Dorothy Sturm. Although well regarded in Memphis Sturm maintained a national reputation, bolstered by her long-term gallery relationship at New York's famed Betty Parsons Gallery.