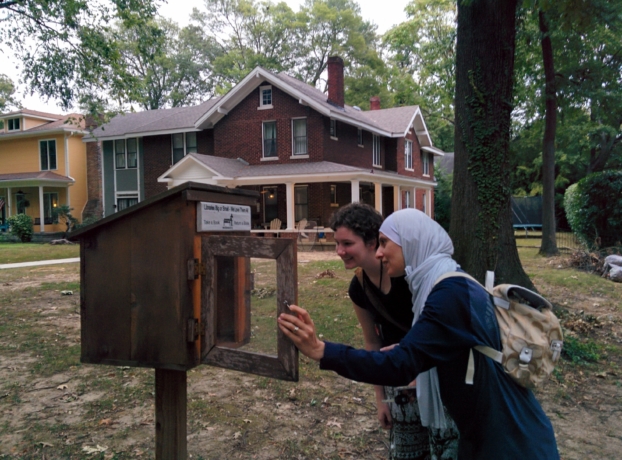 Exhibitions
​(DIS)PLACED BODIES
In partnership with the City of Memphis and the National Civil Rights Museum:

"We've got to stay together and maintain unity." - Dr. Martin Luther King Jr.

In partnership with the City of Memphis and the National Civil Rights Museum's MLK50 program honoring the anniversary of Dr. Martin Luther King Jr.'s assassination, students and faculty from Memphis College of Art and the University of Memphis join together to present a thoughtful and contemporary look at inequalities and social justice in Memphis.

The exhibit will be on view in the Main Gallery of Rust Hall in Overton Park from January 4 to January 30, with a reception on Friday, January 26 from 6-8pm.

In this cross-disciplinary and cross-institutional collaboration, Dr. Susan Nordstrom, Assistant Professor of Educational Research at University of Memphis, O. Gustavo Plascencia, Associate Professor and Director of the MFA Programs at Memphis College of Art, and graduate students from both institutions explore how bodies are (dis)placed by intersections between poverty, available jobs with living wages, decent housing, quality education, and justice in Memphis.

Nordstrom notes, "This exhibit materializes a staying together through difference--different ways of making-philosophizing-researching and creating--and, in so doing, creates a contingent unity that works toward justice for all."

In this project, (dis)placed bodies are defined as people who have been shifted by structural economic, racial, sexual, gender inequalities against their will, and the term (dis)placed bodies is used to situate how structural inequalities are both embodied and real.

This work aims to open up ways to think about, and do the justice to come that has arrived too late for, (dis)placed bodies. The exhibit invites conversations and connections with Dr. Martin Luther King Jr.'s social justice philosophy and work, and powerfully encourages its audience to face cultural and economic disparities in our community.

Plascencia reflects on the project: "This project was very powerful. From the beginning we set out to push our students to think critically about their practices and how they can be expanded, sometimes that task was challenging for everyone, but the results speak for themselves."

During the Fall 2017 semester, UofM and MCA students worked together to study (dis)placements through art, philosophy, and research. During this project, they saw no division between art, philosophy, and research. Rather, they viewed themselves as makers, philosophers, and researchers as they read about social art, philosophy, and arts-based research practices. They walked with these readings in selected Memphis neighborhoods in order to study (dis)placements of ourselves, the people living in those neighborhoods, the history of the neighborhoods, and the neighborhoods themselves. This exhibit and catalog share projects created from the course and walks.

The projects range from assemblage pieces, sculpture, photography, poetry, and traditional academic papers and represent the collective work surrounding (dis)placements in Memphis.

Exhibition participants: Darcie Beeman-Black, Sara L. Benson, Hannah Clevenger, Aaron Matthew Dechant, Sebastian Garcia, Gregory C. Hairston, Nadine R. McLean, Susan Naomi Nordstrom, Alyssa Nucaro, O. Gustavo Plascencia, Mark Rowell, Derwin Sisnett, Leslee, Bailey-Tarbett, Charles Taylor, Cat Williams, and Lauren Woods. Other catalog participants include: Tracy Hernandez, LaRuth K. Lofties, Taylor Palas, Keven Rudrow, Wesam Salem, Laura Sullivan, Stephen Paff, and Holly Staggs.

The exhibition was made possible in part by an MLK50 grant from the City of Memphis and sponsorship from the National Civil Rights Museum.