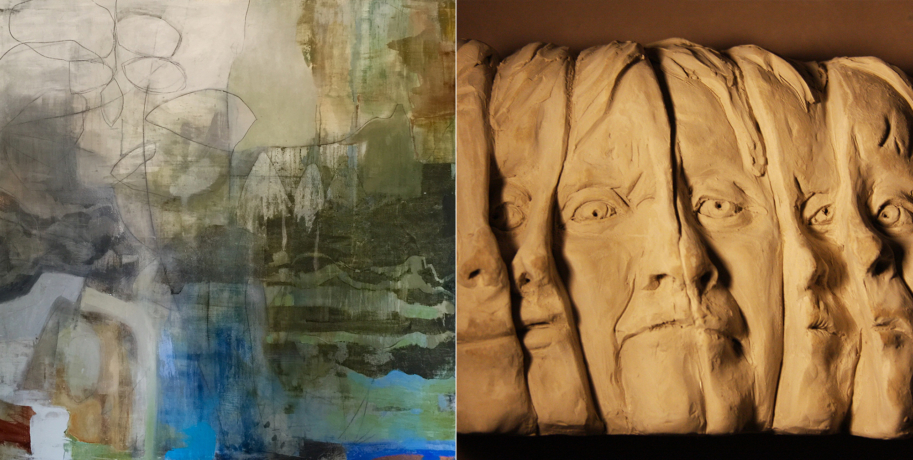 Exhibitions
DANA FINIMORE & ABBIE GORE: HUMAN NATURE (MFA THESIS EXHIBITION)
Dana Finimore, Abbie Gore
Memphis College of Art (MCA) announces Human Nature, the 2016 Fall MFA Thesis Exhibition, on view Nov. 11–Dec. 16 in the 477 Gallery of the Nesin Graduate School, 477 S. Main St. An opening reception will take place Friday, Nov. 11 from 6–9 p.m. The exhibition features the work of two Master of Fine Arts candidates for the fall semester, Dana Finimore of Senatobia, Mississippi and Abbie Gore of Collierville, Tennessee.
Finimore's work reflects on the natural world as a metaphor for catharsis. Her abstract expressionist paintings are earth-toned—blue, green, turquoise, grey, crimson, charcoal, and fawn brush strokes are set off by metallic gold and copper leaf. Floral, stone, and branch motifs are incorporated into the paintings, which are often accompanied by small sculptures, ensconced remnants of natural processes. "Humans are constantly striving to design an artificial environment for themselves, devoid of their connection to the land," said Finimore. "The work is about nature on a spiritual, physical and emotional level. I work to rebuild man's estranged relationship with the terrain."
Gore's work is a series of ceramic, sculptural portraits of family members as a personal exploration into her late grandmother's six-year struggle with dementia—helping Gore to process the sadness while also honoring her grandmother's memory. "The artwork creates a narrative of mental confusion and memory loss, which shows the emotional turmoil the disease causes for the individual," said Gore. "The emotions displayed in these sculptures are expressions I remember she had during the last months before she died."
Human Nature is one of many exhibitions and events that MCA hosts for the community throughout the year. Gallery hours are Monday through Friday, noon–5 p.m., and Saturday, noon–7 p.m. All MCA exhibitions and receptions are free and open to the public.
More information about this show and other MCA events, including the 66th Annual Holiday Bazaar and Fundraiser, can be found online at mca.edu.
Photo: (left) Dana Finimore, "August sixteenth," mixed media, 48" x 48", 2016; (right) Abbie Gore, sculptural portraits in process