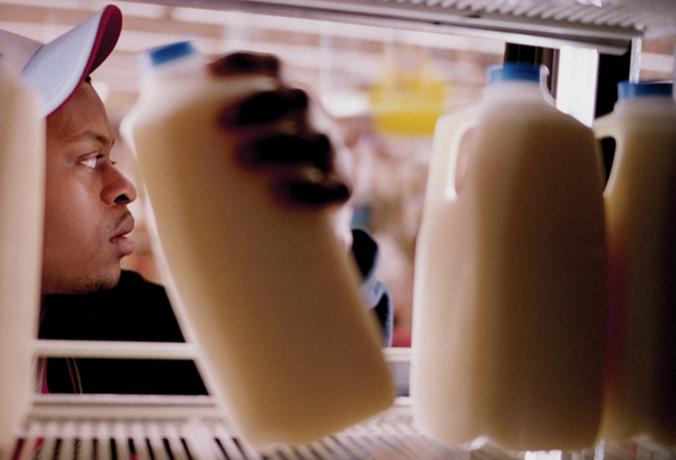 Exhibitions
DAIRY DIARY
Jason Miller
Dairy Diary
The Cooler Portraits
An ongoing series of portraits
Jason N. Miller
Artist Statement
Dairy Diary is an ongoing photography series wherein I insert myself into various grocery store dairy coolers and display cases where products are housed for domestic human consumption. I photograph human subjects unaware, then approach and fill them in on my project and its goals and vice-versa. Ultimately, Dairy Diary is a series about a universal facet of our existence. It is a unifier that connects us all through the universal platform of a condition that on an individual basis, nevertheless, together we share. Regardless, of ethnicity or economic means, we all have to eat, and to eat we must obtain food.
Dairy Diary contains an inherent humor merged with the sincerity and sometimes-downtrodden essence of life. Often, in Dairy Diary, the human subject is dwarfed and isolated by the products, which he or she reaches for on the shelves. To me this references the metaphorical question, which asks if we, ourselves, are not becoming more and more the products.
Credits:
Artist & Photographer: Jason N. Miller
Participant Credits: Elisha Gold, Elizabeth Edwards, Jada Thompson, Justin Coulson, Karen Romine, Mari Trevelyan, Mary K VanGieson, Nan Cook, Susan Hugel, Trevious Mason, Wayne Simpkins, and all others who made this project possible.
Thanks to the following publishers: Art Photo Index, Billboard Art Project, Oxford American, Photo + Magazine.
Special to this exhibition:
2019 marks the issuance of a collectors book featuring the portraits that will be released to coincide with the exhibition at The Memphis Jewish Home!