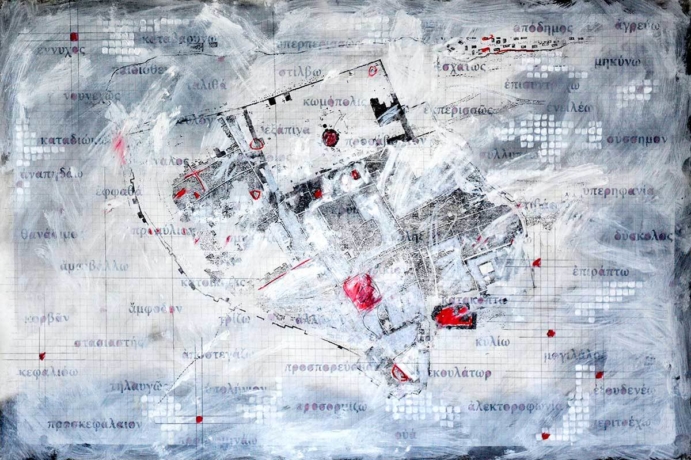 Exhibitions
CORY DUGAN: HAPAX LEGOMENA
Cory Dugan
The Beverly and Sam Ross Gallery at Christian Brothers University (CBU) announces the opening of Hapax Legomena, an exhibition of recent work by Memphis artist Cory Dugan, on August 12. A public reception for the artist will be held that evening in the gallery, which is located on the lower level of Plough Library on the CBU campus, 5:30-7:30 p.m. The exhibition will remain on display in the gallery until October 12.
Dugan, who holds a BFA from the University of Memphis, exhibited widely during the 1980s through the early 2000s and has returned to actively making art and exhibiting in recent years. Dugan was also the founding editor of the regional arts journal Number: and the original art critic for The Memphis Flyer. His writings on art have also appeared locally in The Commercial Appeal and Memphis magazine, and nationally in Art News, Art Papers, New Art Examiner, and Sculpture.
Dugan's art has long been concerned with language, words, and literary topics—ranging from conceptual works and installations to two-dimensional and digital works alternating between linguistic explorations and the visual patterns made by words to more blatant and whimsical wordplay.
His current series is drawn from the linguistic term that gives the exhibition its title, Hapax Legomena. The simple dictionary definition of the term is usually for the singular hapax legomenon: a word appearing only once in a document or corpus. It comes from the Greek, meaning "something said only once." Taking form in works on paper and canvas, photography, and video, Dugan's new work explores the idea of words that appear only once—only once in the entire Hebrew Bible, only once in the Christian New Testament, only once in all the plays by William Shakespeare. They are not inherently special words when isolated and removed from their context; they become random patterns when sprinkled across a sheet of paper. In the case of John Donne's Holy Sonnets or Samuel Beckett's Waiting for Godot, they read like rambling gibberish when strung out consecutively in narrative form and are juxtaposed (and superimposed) with appropriated drawings by Leonardo da Vinci and Marcel Duchamp.
Additional information and artwork is available at www.corydugan.com.