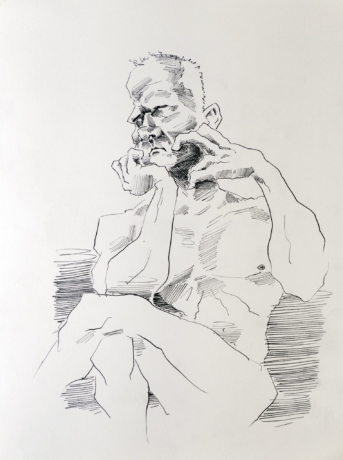 Exhibitions
CHRIS HONEYSUCKLE ELLIS: ​THE QUICK AND THE DEAD
Chris Honeysuckle Ellis
The Quick and the Dead
Drawings and Obituaries by Chris Honeysuckle Ellis
August 18- September 23, 2017
Reception for the Artist, Sunday, August 27, 3:00-6:00
Artist's talk: 4:30

Chris Honeysuckle Ellis has lived in Los Angeles long enough for his native Frayser to have worn off, which it might have done sooner had he not clung to it so assiduously. He is an actor by profession and although he is no John Wilkes Booth, he has made his way amid the world's ruin these many years in California as a journeyman character actor in over 100 movies and TV doctor shows, lawyer shows and forensic shows. Being an actor, he spends most work days waiting for the phone to ring, and diverts the silence by slandering the dead one day at a time with frivolous caricatures and acidic drolleries on his Facebook page. Some of those caricatures are selected for the exhibition.