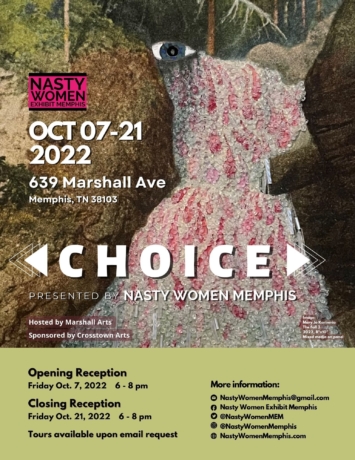 Exhibitions
CHOICE
Local artists will exhibit work in response to the overturning of Roe v. Wade.
Tours are available upon request. For a tour, email NastyWomenMemphis.com.
CHOICE, previously scheduled to exhibit at Crosstown Arts, has changed venue to Marshall Arts Gallery. The exhibit is Hosted by Marshall Arts and Sponsored by Crosstown Arts.
CHOICE is a group exhibition that demonstrates solidarity among artists who identify as or support women and people with uteruses in the face of threats to individual and reproductive rights. The exhibit also serves as a fundraiser with 50% of all art sales being donated directly to Planned Parenthood of Tennessee and North Mississippi and the other 50% given back to the participating artists.
NASTY WOMEN Memphis is the Memphis, Tennessee representative of Nasty Women Global Art Exhibitions and Activism. More than 80 exhibits have followed globally, but the original took place after the 2016 election in Queens, NYC.
CHOICE will be Nasty Women Memphis' fourth group exhibition where artists can gather in solidarity, express their rage through art, and support our local Planned Parenthood.
For more information, visit Nastywomenmemphis.com or email NastyWomenMemphis@gmail.com
Facebook: Nasty Women Exhibit Memphis
Twitter: @NastyWomenMEM
Instagram: @NastyWomenMemphis
Website: NastyWomenMemphis.com