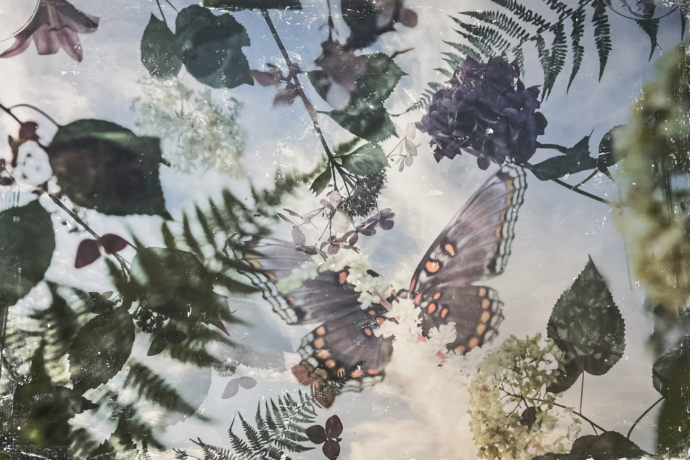 Exhibitions
CATHERINE ERB: PRESQUE VU
Catherine Erb
Catherine Erb returns to David Lusk Gallery Memphis this spring with PRESQUE VU, a collection of photographic works of gardens that push picture taking and making in many diverse directions. The title of the exhibition, PRESQUE VU, is a French term that aptly describes Erb's studio process: the intense feeling of being on the very brink of a powerful epiphany, insight, or revelation, without actually achieving the revelation.
The exhibition focuses on the natural world, but PRESQUE VU is not a landscape exhibition. Instead, like a scientist or alchemist, Erb is using mirrors, plaster, waxes, scissors and other tools to transform elements of special gardens to view in her photographs, transfers, and media manipulations.
For years, Erb has photographed objects that hold and spark memories (clouds, marbles, butterflies, fishing lures). She stages the image, hand-coloring the photograph, mounts it to panel, and coats the entire piece with thin layers of tinted wax. The works push the boundaries between photography and painting, expanding traditional definitions of these two media. In PRESQUE VU, Erb pushes the boundaries even further.
To start these works, Erb visited friends' gardens, documenting various flowers and plants with digital and film cameras. At the studio she studied clipped flowers alongside her own collection of butterflies, compsing them in large polaroid transfers. Erb layered some images on plaster, creating monolithic frescos. Other works feature kaleidoscopic arrangements. These disparate methods combine to recreate a garden visit into a multi-dimensional, multimedia study of place, time, texture, and subject.
Says Erb: "Did I have a complete revelation, I don't think so, but I keep working toward that epiphany!"
Though using a heavier, more opaque medium, Erb's practice is still meditative, involving a deep exploration of the radiance of the present moment. Her artworks oscillate between reality and imagination and connect the physical and the divine.
A native Memphian, Erb's fascination with photography began in the late 80s when she had unlimited access to a camera and darkroom. She is a lifelong visual journaler, whose digital darkroom allows her to explore alternative photography-based formats to create more extensive, conceptual bodies of work. Her work has been featured in Architectural Digest, Elle Décor, The New Southern, and Nashville Arts Magazine, and River City Magazine. Erb has had recent solo exhibitions in Nashville, Austin, Charlotte, Savannah, and Washington Depot, CT.
David Lusk Gallery hours are Tu-Sa, 10-5. For more information or visuals please contact Lees Romano at 615-780-9990 or lees@davidluskgallery.com