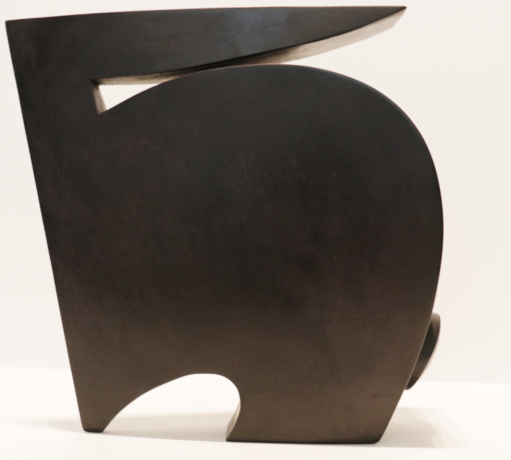 Exhibitions
CARROLL TODD: MISCELLANY
Carroll Todd
This October, David Lusk Gallery exhibits MISCELLANY, Carroll Todd's collection of small, bronze works.
Stylized animals, objects, and totems are in keeping with Todd's favorite themes and forms, a selection narrowed down through nearly fifty years of sculpting. Whimsical figures that are formally sophisticated but never solemn range from representational and familiar to total abstraction. Some are easily understood for what they are: a rabbit, a fish, a horse. Others, like Raptor, bridge our own understanding of a large bird of prey with Todd's lexicon comprising modernist design, nature, unexpected scale, and humor.
While often brimming with child-like wonderment or surprising sinister humor, Todd's skill and technique are showcased best in his more formal elements like benches, weathervanes, and other outdoor sculpture. Figure and Torpor employ refined components similar to those present in his column at the Dixon Gallery and Gardens. A well-placed notch, subtle fold, or unexpected point add movement to an otherwise stiff, solid, industrial material.
Todd uses precisely formed and welded sheet bronze to create modernist explorations of natural elements. Starting with a sketch, he establishes the abstract and figurative elements on paper. The work evolves into a small maquette to engineer seamless bends and folds that the bronze assumes on a larger scale. These two foundational steps are crucial to his meticulous process. Only after these are completed to his satisfaction can Todd cut, roll, bend, form, and weld the sheet bronze. After application of wax and layers of patinas, the result is grace and elegance rarely found in metal sculptures.
---
Carroll Todd is a native Memphian with a BFA from Memphis College of Art and an MFA from Cornell University. His work is in the collections of Arkansas Arts Center, Little Rock; Autozone Inc, Memphis; Design Network, St Louis; General Electric, Rockefeller Center, New York; Little Rock National Airport; Memphis Brooks Museum of Art; Miniature Museum of Contemporary Art, Amsterdam; Mobium/Graphic Management Corporation, Chicago; and Tudor Investment Company, New York.