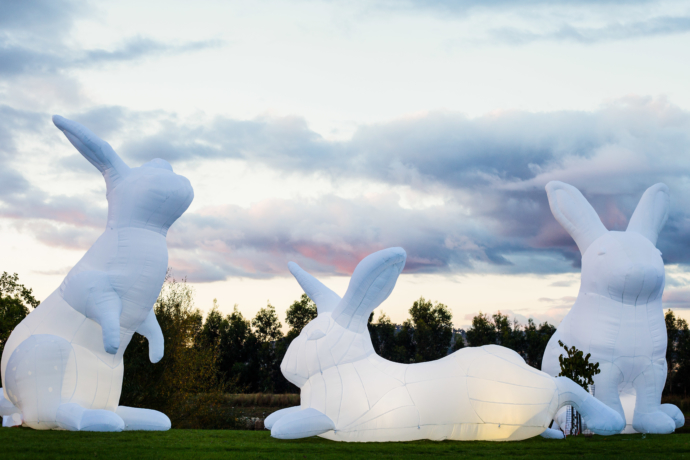 Exhibitions
BROOKS OUTSIDE: INTRUDE
Amanda Parer
Intrude, a public art installation slated to come to the Memphis Brooks Museum of Art in January 2017, consists of five giant illuminated inflatable rabbits, the largest of which is approximately 23 feet high, 10 feet wide and 16 feet long. Created by Australian artist Amanda Parer (b. 1971), this installation first appeared at Vivid Festival of Light in Sydney and has traveled to the United States, United Kingdom, France, Canada, Scotland, Denmark, Italy, and Belgium.
On view at the Brooks January 18 – 22 and 25 – 29, Intrude explores the natural world, its fragility, and our role within it. Rabbits in Parer's native Australia are out of control pests, leaving a trail of ecological destruction wherever they go and defying attempts at eradication. First introduced by white settlers in 1788 they have caused a great imbalance to the country's endemic species.
The rabbit also is an animal of contradiction. It represents the fairytale animal from our childhood—a furry innocence, frolicking through idyllic fields. Intrude deliberately evokes this image, and a strong visual humor, to lure you into the artwork only to reveal the more serious environmental messages behind it.
The Brooks will present programming to promote interaction between exhibition visitors. Planned programs include a film series that will provide both context and entry point, forging connections between fine art and popular media through films such as Harvey and Night of the Lepus.