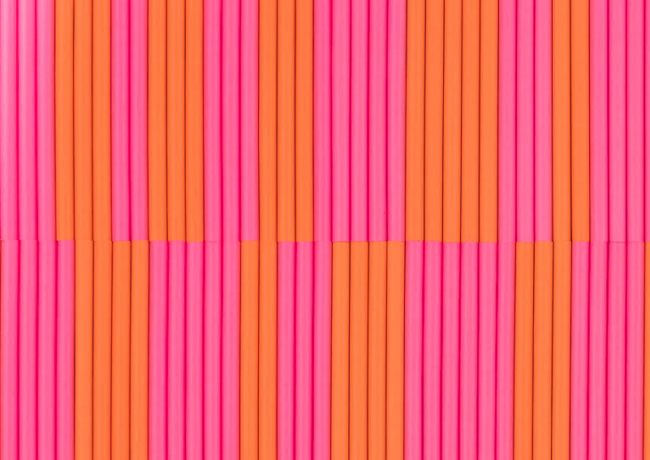 Exhibitions
BRANTLEY ELLZEY: SWEET
Brantley Ellzey
Crosstown Arts is pleased to present SWEET, an exhibition of 20 new works by Memphis-based artist and architect, Brantley Ellzey.
For the past 15 years, Ellzey's practice has typically involved media-based content in service to a particular subject. His works consist primarily of paper from magazines, books, and other printed media which he deconstructs, rolls and methodically builds into complex, layered forms. Hand-rolled, individual pages contain information that create an archive, a time capsule of a specific theme and period. He has spent the last few years working on commissions that involved this concept, giving him less control over palette or pattern.
With approximately 20 new pieces on view in SWEET, Ellzey continues his exploration of the rolled paper module, the process in creating the module, and the resulting compositions and textures when the module is replicated and combined. In the process of these works, Ellzey's architectural training is evident. He was always drawn to model-making and the notion of creating things by hand. Modules provide scale and the hand is visible in the final product, as each roll of paper is meticulously reworked by the artist. "This process of rolling is a meditative process. I find great inspiration in mundane, methodical tasks. My mind is free to concentrate on exactly how and why I'm driven to create a particular piece." The rolled pages that make up his work are filled with energy, like springs waiting to snap back.
"You say to a brick, "What do you want, brick?" And brick says to you, "I like an arch." -Louis Kahn
Throughout SWEET, Ellzey returns to the origins of his process by focusing on elements of color, form, and composition. In paring down the recent works to their basics, Ellzey also simplified his inspirations and returned to his past. He began to revisit children's books that formed his earliest visual memories and researched artists and designers that were working in the early sixties. Through this process he discovered the work of Mary Blair. An unsung hero of the Disney animation studios and creative force in advertising and design, Blair was responsible for the "It's A Small World" attraction for the New York World's Fair and then Disneyland. The juxtapositions of color with folk art patterning and imagery in her work hugely influenced his perception of the world as a child. Blair's work as well as the styles of Alexander Girard and Charles and Ray Eames have guided the color and energy of Ellzey's new body of work.
During this tumultuous political season, the process of creating these pieces, as well as the imagery and materials involved, has been a bulwark against a daily barrage of cynicism and acrimony. SWEET is unabashedly happy and optimistic, and Ellzey hopes his audience will be similarly inspired.
Artist Biography:
Brantley Ellzey is an architect and artist who has operated an independent studio in the Crosstown neighborhood of Memphis since 2010. With degrees in Architecture and Theater Design from Tulane University, Ellzey creates art that illustrates the precision and structural form of architecture while embodying the colorful thrill and drama of the theater. His works consist primarily of paper from magazines, books and other printed media which he deconstructs, rolls and methodically builds into complex, layered forms. Drawing from the themes of the selected materials, he expresses the anatomy of a journal, making the subject and content visually apparent in the piece with lines, color and overall construction. His work is in numerous private and corporate collections throughout the United States, such as Le Bonheur Children's Hospital, West Cancer Center, Bass Berry + Sims, Wunderlich Securities, and Iberia Bank. Examples of his architectural work are First Congregational Church, The Museum of Modern Spinal Surgery at Medtronic, The Kemmons Wilson Exhibit at the Kemmons Wilson School of Hospitality and Resort Management at University of Memphis, the renovation of Immaculate Conception Cathedral, and Ballet Memphis (Cordova).