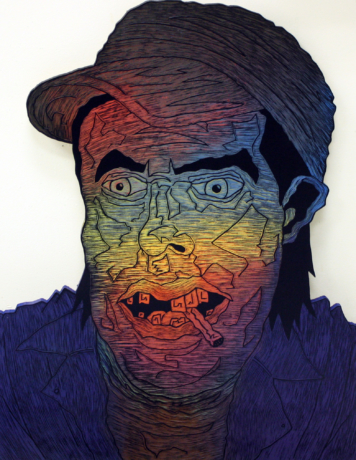 Exhibitions
BLESS THIS MESS: HOLT BRASHER & SARAH BEST JOHNSON
Holt Brasher
Sarah Best Johnson
Bless This Mess is the graduate thesis exhibition featuring the works of Holt Brasher and Sarah Best Johnson of The University of Memphis Department of Art. The exhibition title, a Southern colloquialism, reflects not only the two artists' upbringing in Louisiana and Alabama respectively, but also various aspects of their work included in the show itself.
Johnson's presentation is a culmination of drawings and paintings that critique the infantilization of women, the forced gendering of children, and society's repressed obsession with innocence. While decorated dolls are the focus of the paintings, the drawings are a crude reinterpretation of images inspired by obstetrics textbooks. The developing minds of children and the dolls they play with possess an innocence that adults can no longer understand, yet the images she creates are haunting.
Meanwhile, Brasher's work tends to lean towards the "Mess" side. After a decision to confront his identity shaped by the small, country town he grew up in, Brasher began to create a body of work consisting of various installations that deals with prevalent issues in his hometown. In his thesis work, he tackles the idea of the "Alpha Redneck" and the poor health, addictions, and temperament that goes hand in hand with the men identified as such. Influenced by actual men who seek to emulate this constructed identity, he has crafted a presentation of their world through his own artistic stylings, and welcomes viewers to join the conversation.
Image caption:
Holt Brasher, Hed 1, 2016. Woodcut, spray paint, and oil based ink. Courtesy of the artist.