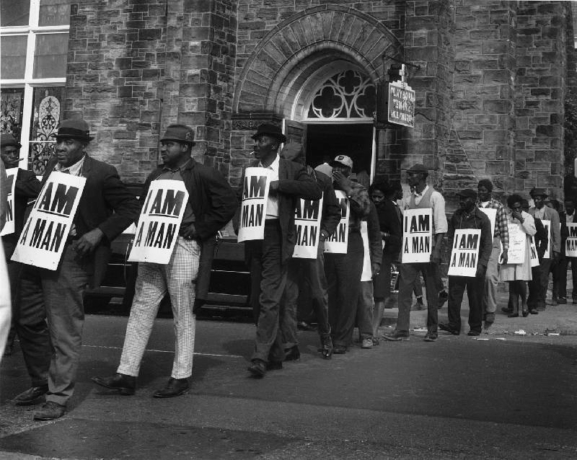 Exhibitions
BLACK RESISTANCE: ERNEST C. WITHERS AND THE CIVIL RIGHTS MOVEMENT
Ernest C. Withers
Beginning in the 1950s, Ernest Withers (1922-2007) photographed Black resistance in Memphis—from pickets and sit-ins to court room scenes. Among his most famous images are those documenting the 1968 sanitation workers' strike and the assassination of Dr. Martin Luther King Jr.

Although including earlier protests, this exhibition focuses on and commemorates the 50th anniversary of the events from March 27 through April 8, 1968. Dr. King speaking at the Mason Temple on the 27th; a wall of sanitation workers carrying "I AM A MAN" placards and police in riot gear on the 28th; Dr. King returning to Memphis on the 3rd; and the march to City Hall on the 8th are among his evocative, iconic images.

A half century after these events and their documentation, it is clear that these photographs are not only a part of our nation's visual memory, but also of the whole world.
---
image: Ernest C. Withers, American, 1922 - 2007, In Front of Clayborn Temple, Sanitation Workers Strike, Memphis, March 28, 1968, Gelatin silver print, printed from original negative in 1999, Memphis Brooks Museum of Art purchase with funds provided by Ernest and Dorothy Withers, Panopticon Gallery, Inc., Waltham, MA, Landon and Carol Butler, The Deupree Family Foundation, and The Turley Foundation 2005.3.32 © Withers Family Trust
---
This exhibition is organized by Memphis Brooks Museum of Art.