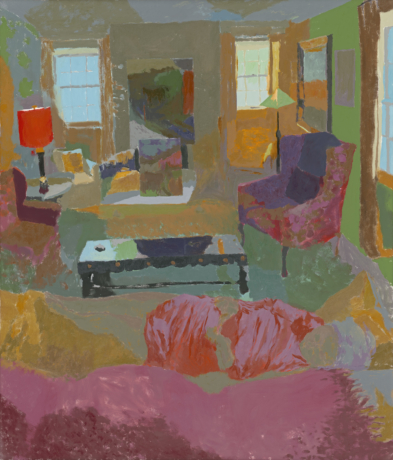 Exhibitions
BILL KILLEBREW: ATMOSPHERIC CONDITIONS
Bill Killebrew
Bill Killebrew returns to David Lusk Gallery for his second solo show ATMOSPHERIC CONDITIONS- this time at the Memphis gallery. Complete, imperfect and narrative, Killebrew's narrative scenic paintings elevate something as commonplace as daylight, making it the unifying component in a painting. At once simple and mysterious, his paintings encourage viewers to sit, reflect, and enjoy what's taking place before them.
Killebrew says, "Being a painter of things I lean toward the familiar and everyday, continuing to believe in the importance of the subject as the focal point of the tension/release in the painting process. One might find implied meaning when things become awkward and the picture is difficult or when it is easy and harmonious."
In his 2021 Nashville solo show BEFORE THE BIG TREE FELL, Killebrew shared intimate portraits of family and friends in vibrant, anchored in bold, unexpected color that doesn't shock but, rather, invites closer inspection. "I broke ground many years ago in the intimate painting world and have tried to live there ever since, having endlessly available subject matter, plus 'Why would you want to paint any other way?'" he says. In ATMOSPHERIC CONDITIONS, Killebrew employs his same use of color and relies on woodgrain or roughness of a canvas to create hearty texture in his compositions.
Rather than focusing on a goal for the piece, Killebrew becomes absorbed in the process of painting and creating. He doesn't need too much thought to bog down the scenes or emotions they evoke. Killebrew's paintings celebrate the everyday and capture what grabs his attention: the vibrant pink of a sunset, electric orange of a friend's socks, a single glowing light following a dark rainstorm.
---
Killebrew is a Nashville native with a BFA in painting and printmaking from Middle Tennessee State University. His work is in public and private collections throughout the Southeastern United States.