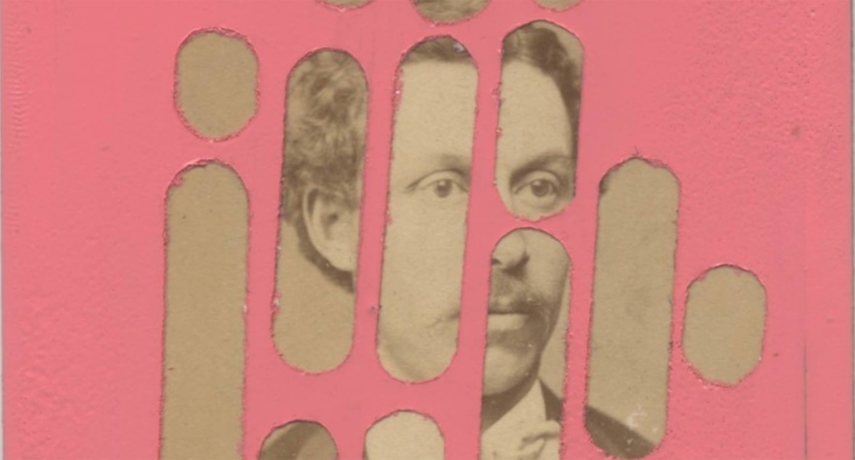 Exhibitions
BALEIGH KUHAR: SONDER
Baleigh Kuhar
sonder - n. the realization that each random passerby is living a life as vivid and complex as your own.

The definition of "sonder" is the realization that everyone around you has as complex and unique experience as your own. The estimated total number of people that have ever lived is around 107.6 billion. Each of those people has had a completely unique experience that is the culmination of the successes, failures, tragedies, miracles, and love of the generation before. All of your ancestors experience exists, tucked away, in tightly wound helixes of DNA in each and every cell in your body.

In the series "Sonder" I frame human experiences from the past with the silhouettes of chromosomes. These moments and people in the pattern of chromosomes each have a unique experience. You can only ever get a glimpse of what is underneath the paint leaving it impossible for the viewer to fully understand what's happening in the image. This is meant to mimic our inability to entirely understand another person life.
---
Baleigh Kuhar is a mixed media artist living and working in Memphis, TN. She received her BFA in Painting and Drawing from Memphis College of Art in 2018. As a child and up to adulthood she was constantly sick. As a woman her illness was often disregarded due to sexism from medical professionals. Later it was discovered that her illness was the result of Eosinophilic Esophagitis and Asthma. This error in Kuhar's genes can be traced through the generations of women on her mother's side to her great grandmother Sonja. Upon investigation Kuhar discovered that Sonja had endured a genocide known as The Ukrainian Famine, or Holodomor. This harsh famine caused her great grandmother's body to not have to proper nutrients to prevent accidents in cell DNA copying. Generations later that accident in her genes has remained and become a part of my life. Her work explores how history affects her life now and what her identity is in connection to the events that made her.

Kuhar has been in shows such as What Remains at Emily Carr University in Vancouver, Canada, 12 x 12 Exhibition in Lawrence, Kansas and the Bellwether's Exhibition at the West Tennessee Regional Art Center in Jackson, Tennessee, Past Present, and PINK at Cutler Crane Gallery in Memphis, TN, and was on a discussion panel titled "Embodiment in Collage: Mind, Body and Re-membering Trauma of Past Generations" with artist Sarah Castillo at Kolaj Fest in New Orleans, Louisiana.