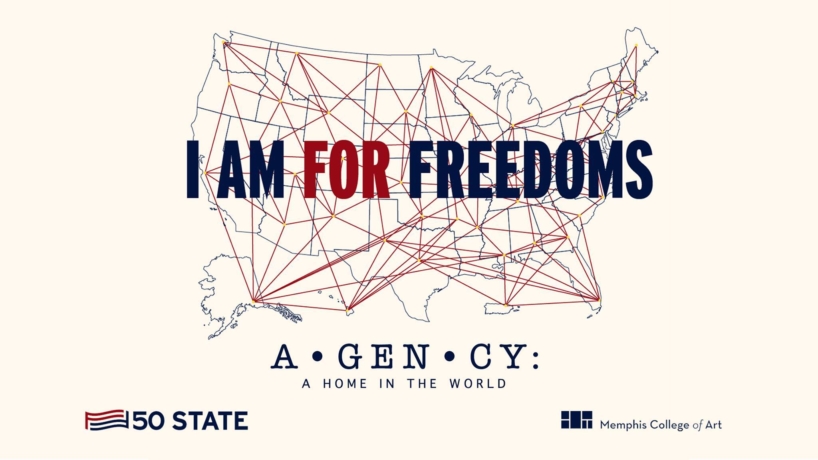 Exhibitions
AGENCY: A HOME IN THE WORLD
Kenny Wayne Alexander, Sheila Pree Bright, Michael Paul Britto, Kevin Brooks, Janaye Brown, Tommy Kha, Lawrence Matthews, Carl E. Moore, Andrea Morales, Catherine Patton, Xaviera Simmons, Jade Thiraswas
A•GEN•CY: A Home in the World
A For Freedoms Exhibition
Curated by Lester Julian Merriweather

In partnership with the For Freedoms 50 State Initiative, A•GEN•CY: A Home in the World is an exploration of what it means to be a free person of color within the current experiment of American democracy. The intention of A•GEN•CY is to examine two pillars of the For Freedoms platform: Freedom from Want and Freedom from Fear.

For Freedoms is a platform for civic engagement, discourse, and direct action for artists in the United States. In a world where there can be potentially narrow expectations concerning how artists of color address the construct of race in historical terms, this exhibition takes a different approach. The works in A•GEN•CY express ideas around the freedom to be a person of color living in a viscerally racialized America. A•GEN •CY examines ways people of color thrive in a moment where the concept of race is used as a weapon against them.

Award-winning Memphis filmmaker Kevin Brooks will also be screening his film Bonfire during the reception.

MCA Gallery hours are as follows: Weekdays from 8:30 a.m.–5 p.m, Saturdays from 9 a.m.–4 p.m, and Sundays from noon-4 p.m.

Other MCA For Freedoms Events include a Voter Registration Day on September 25 and a Panel Discussion: Freedom of Expression on October 25.