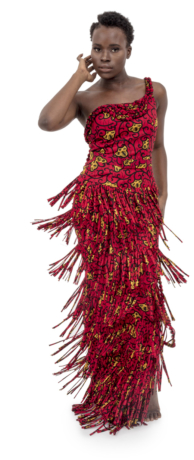 Exhibitions
​​AFRICAN-PRINT FASHION NOW!: A STORY OF TASTE, GLOBALIZATION, AND STYLE
African-Print Fashion Now!: A Story of Taste, Globalization, and Style introduces audiences to the dynamic traditions of African dress featuring colorful, boldly patterned printed cloth.

The exhibition highlights the interplay between regional preferences and cosmopolitanism that has long flourished on the continent, while highlighting the expansiveness of 21st-century African-print fashion.

From formal portraiture to visual arts to ubiquitous African fashion calendars to street style photos shared by cellphone, it is clear that representations of fashion have always been a nuanced form of communication.

Fashion subtly communicates about place, heritage, and belonging through such means as appropriation, pastiche, and revival. Throughout the exhibition, African-print fashions are considered to be creative responses to key historical moments and empowering projections about Africa's future.

The exhibition includes 60 tailored fashions, 100 archival and contemporary cloths, 20 black-and-white studio portrait photographs from the 1960s and 1970s, a series of runway videos, and seven works by contemporary visual artists. Ensembles on view draw from the Fowler Museum at UCLA's collections, private loans, and the extensive archives of the Dutch textile manufacturing company Vlisco.

African-Print Fashion Now! A Story of Taste, Globalization, and Style is organized by the Fowler Museum at UCLA in association with Vlisco Netherlands B.V. It is guest curated by Suzanne Gott with Kristyne S. Loughran, Betsy D. Quick, and Leslie W. Rabine. Major funding is provided by the National Endowment for the Arts with the additional support of R.L. Shep, DutchCulture, and the Pasadena Art Alliance.
---
African-Print Fashion Now! is organized into four distinct sections: It All Starts with Cloth; Portraits in Print; Regional Styles, Fashion Preferences; and New Directions.

It All Starts with Cloth addresses the history of African-print textiles, originally inspired by batik or wax-resist cloth from Indonesia. A dense grid of more than 60 cloths manufactured in Europe, Africa, and Asia evokes the vibrating colors and designs stocked in open-air markets and cloth shops across the African continent. A visual timeline of production across these regions outlines the history of the cloth trade in West and Central Africa from the 1800s to the present. Archival photographs and dramatic film footage of the Vlisco factory in operation transport audiences to the production of cloth in the Netherlands.

Portraits in Print leaves behind the brightly colored world of African-print fashion and enters an intimate black-and-white space of memory. A gallery introduces four photographers from Africa's "golden age" of black-and-white photography in the 1960s and 1970s: Francis K. Honny (Ghana, 1914–1998); Jacques Toussele (Cameroon, 1935–2017); Omar Ly (Senegal, 1943–2016); and Mory Bamba (b. Mali, 1949). Their photography studios in newly independent West African countries provided a platform for an ascending middle class to see themselves and be seen by one another. The portraits are indicative of a historical moment when local African-print ensemble styles gained new significance as expressions of national and Pan-African pride and identity.

Regional Styles, Fashion Preferences takes an in-depth look at localized contemporary African-print fashion whereby stylish dress is a feature of daily life. Ensembles on view from Cameroon, Ghana, Senegal, Côte d'Ivoire, and Nigeria reflect an array of styles, all of them customized and individually made to order. This section presents a case study from Kumasi, Ghana to illustrate the interactive commissioning process between seamstresses or tailors and their fashion-conscious clientele. The bold patterns of the cloth engineered with subtle and striking variations in style reveal the ingenuity and flair of regional designers.

New Directions bridges regional cultures with transnational art and fashion networks, beginning with African-print styles on global runways in Paris, New York, Dakar, and other cities. Designers in this section include Alexis Temomanin (b. Côte d'Ivoire, based in London), Titi Ademola (b. London, based in Ghana), Ituen Bassey (b. Nigeria), Adama Amanda Ndiaye (b. Democratic Republic of the Congo, based in Senegal), Gilles Toure (b. Côte d'Ivoire) and Patricia Waota (b. Côte d'Ivoire). Ensembles on view feature full-length gowns and men's blazers, metallic wax print and architectural pleating and boning—all of which harmoniously marry the drape of the fabric with the strategic construction of print patterns for stunning results.

Juxtaposed with these glamorous designs are contemporary works by photographers and other visual artists who incorporate print-cloth imagery to convey evocative messages about heritage, hybridity, displacement, and aspiration. Works by photographers Omar Victor Diop (b. Senegal, 1980), Hassan Hajjaj (b. Morocco, 1960), and Leonce Raphael Agbodjelou (b. Benin, 1965) reveal the complex dialogues about aesthetics, identity, and globalization across history and geography. This section also presents contemporary paintings by Njideka Akunyili Crosby (b. Nigeria, 1983) and Eddy Ilunga Kamuanga (b. Democratic Republic of the Congo, 1991), both of whom incorporate images of print cloth in their work.
---
An accompanying fully illustrated exhibition catalog will be available for sale at the Brooks. The volume is generously funded by the R. L. Shep Endowment Fund at the Fowler Museum. The publication includes essays authored by exhibition co-curators Suzanne Gott, Kristyne S. Loughran, Betsy D. Quick, and Leslie W. Rabine.
---
image:
Ituen Bassey, designer (b. Nigeria), Ituen Basi, based in Lagos, Nigeria, and London, United Kingdom, Ngozi Dress, "Independence" collection, 2010, African-print cloth, Courtesy of the Designer, Photo: Joshua White/JWPictures.com