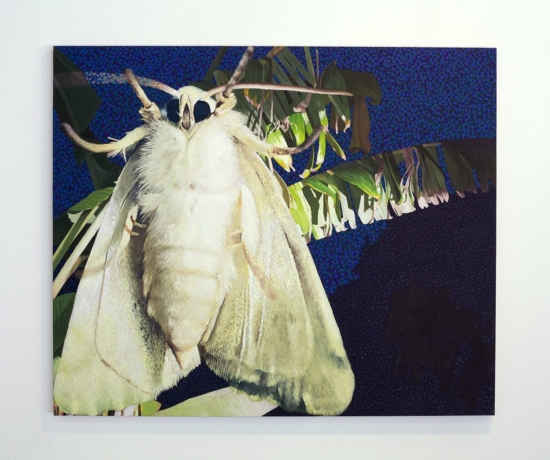 Exhibitions
ADAM HIGGINS: LONESOME
Adam Higgins
These are all pictures of animals and land.
Either concealed or candid.
Either next to the ocean or in a small room.
From behind a window or through a window.
So that I might see myself and a bug at the same time; in a mirror and through an opening. Some of the animals might be alive still.
Although I don't know how long a moth lives.
Or how lucky a little fish might be.
The paintings are collaborations with photographs I've taken.
To better understand how all pictures are abstract;
How if I look at something long enough and slowly enough
It can come apart
Into formal fragments
Like repeating a word aloud until it sounds strange and new.
With each, I'm insisting on unique moments of color or shape in something incidental. I'm reaching out with these things.
So as to feel more understood with my pictures than I do with my words.
And to relay a compression that I find ecstatic;
Simultaneous containment and infinity
The room and the ocean.
Water and air making love in a shoebox.
– Adam Higgins
---
Adam Higgins (b. 1989 Huntington Beach, CA) lives and works in Los Angeles. Recent exhibitions include: Flatfish, Hunter Shaw Fine Art, Los Angeles, CA (solo), The Imaginary Sea (curated by Chris Sharp), Villa Carmignac - Porquerolles island, France, Heads/Tails, Next to Nothing, New York, NY, and Way Out Now, Diane Rosenstein, Los Angeles, CA. The artist earned an MFA from Yale University in 2018 and a BFA from the Memphis College of Art in 2012.
---
Tops at Madison Avenue Park, 151 Madison Avenue, Memphis, TN 30103. On view 24 hours a day.