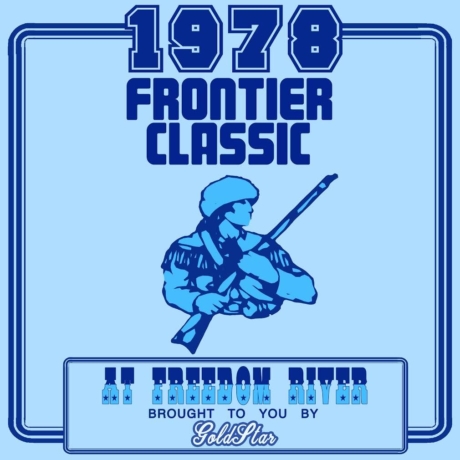 Exhibitions
1978 FRONTIER CLASSIC AT FREEDOM RIVER
Ryan Gillam, Jake Himovitz
A high energy two-man "opera," combining elements of theatrics, music and projection art, that runs approximately 30 minutes.

Plot description:
A proud young man and his weather-beaten partner approach the end of a fur-gathering journey in this romanticized tableau. The 1978 Frontier Classic seeks to identify people and their patterns, from the Yukon to the Grid Iron. Jake and Ryan don their buckskins, chow down on a bucket of wings, and crack open a cold one in this great American fanfare.

The 1978 Frontier Classic explores parallels between the years 1848, 1978, and today. We are interested in representing people, their patterns, and how they relate to contemporary American patriotism. Research and specificity are paramount in our work. Our accuracy and research behind each element of the piece is contrasted with a superficial layer of absurdity.
Presented by Goldstar