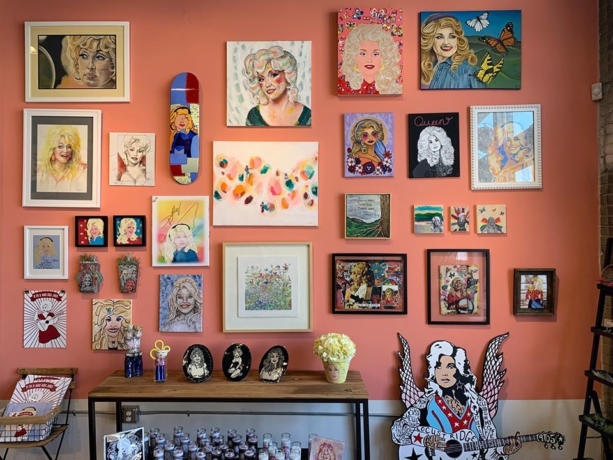 Exhibitions
VIRTUAL DOLLY ART SHOW
VIRTUAL SHOW ANNOUNCEMENT: Hello Dolly-lovin' folks! We are so excited to unveil this years collection of Dolly Art. To ensure safety and proper precautions we are asking that everyone experience the show virtually this year. It will be fun, we promise! Tune in live here on our Facebook or (Instagram @shoprala) on Friday, June 5th at 6:30 for last year's Dolly Art Show winner, Annie Rochelle's solo show, and 7pm (EST) for the winners announcement + to see the show. All pieces will be listed for sale at shoprala.com by that evening and a portion of Rala's proceeds will be donated to Dolly Parton's Imagination Library. Hope to "see" y'all there!
Original Call to Artists: Rala is putting out a call to artists to submit work for our First Friday Artwalk show on June 5th. We are looking for original paintings, drawings, sculptures, and other visual handmade art (excluding video art) centered around Dolly, her spirit, and her legacy in Tennessee. We want to see what Dolly means to local and regional artists, translated through their medium and craft.
Prizes include tickets to Dollywood and Dolly themed merchandise.
*U.S. Applicant only please.