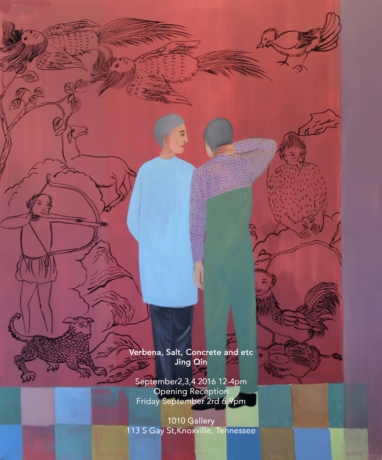 Exhibitions
VERBENA, SALT, CONCRETE AND ETC.
Jing Qin
This exhibition brings together large and small format paintings in which figures are depicted against backdrops of obscure interiors. While Jing Qin develops each work instinctively without a preconceived idea of the finished result, there is visual coherence to the overall group of paintings on view, both in their similar palettes of complementary colors, flat space as well as in recurring subjects, such as interior floor, human characters within familiar-looking but imaginary settings, these paintings create their own mythologies. The artist deliberately built a antagonistic narration by mixing elements from imagination, myths, fantasies to commonplaces of mundane world.
Jing's works can be traced to a great of variety. She frequently incorporates references to the creative process, she absorbs the elements around her, like books, films, plants, patterns, and East Asian arts also plays an important role in her compositions as a result of she was born and grew up in China.