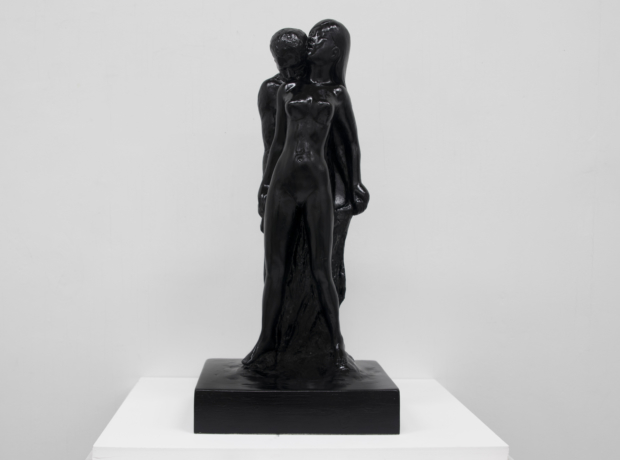 Exhibitions
PERRIN TURNER: TRUE SELF
Perrin Turner
Upon learning that I was a sculptor, Keith explained to me that he needed help repairing something precious to him. He presented me with a fragment of a plaster statue that had broken off of its base; a sculpture of his grandparents, made in the 1960's. Keith recalled growing up around the sculpture in his grandparents' home and stated that it was the oldest family heirloom in his possession. After repairing the sculpture, with Keith's permission, I have transported it from Richmond, VA to Knoxville, TN. Exhibiting this object within the larger installation, True Self, creates a space in which to consider dynamics at play between a Black sculptor and a Black family heirloom.
BAD WATER is pleased to present TRUE SELF, Perrin Turner's first exhibition in Knoxville. On view from December 7 through January 1, the opening reception will take place on Friday, December 7 from 6 to 9 p.m.
On the floor of the gallery, seven illuminated gourds exist as the seven stars of the "Big Dipper" or "Drinking Gourd" constellation. Referencing the folkloric role of these seven stars as they were seen and interpreted by runaway slaves in the Pre-Civil War Southern United States, the gourds operate as individual objects whose identity is reflected in their collective representation. The form of gourd is a reference point, harkening back to that historical black viewership, and a representational unit for sculpturally [re]creating a Black perspective.
Much like Follow the Drinking Gourd's purpose as a map song pointing slaves towards True North, the sculptures in True Self function as points of light that invoke and reinterpret the spirit of Black self determination via the route of imagination; a mutable guiding force at work in a perpetually unfolding story. In installation, the identifiable constellation has been deconstructed and reconfigured, its former purpose and reliability in pointing oneself northward has been exchanged for the opportunity to see each object as a separate individual, untethered from its celestial form.
---
Perrin Turner (b. 1993 | Atlanta, GA) lives and works in Richmond, Virginia. He received his BFA from Virginia Commonwealth University and attended Skowhegan School of Painting & Sculpture in 2016. Recent exhibitions include The Sunroom (Richmond, VA), Good Enough Gallery (Atlanta, GA) and Not Gallery (Austin, TX).
BAD WATER is an artist-run gallery set in a once vacant backyard structure located ten minutes from downtown Knoxville, Tennessee. 320 E. Churchwell Ave.